Play Ideas for the Lock down
Posted on
Play Ideas for the Lockdown
The weather has been really kind to us this week, so we have enjoyed being at home and spending some quality time with the kids. It is a strange time and nothing we have experienced before so we have all been adjusting. My son is showing some signs of uncertainty so I will try and keep with a bit of routine for him.
If you didn't see our last blog - check it out here. However our blog is full of other ideas for play so it it worth having a browse if you need a bit of inspiration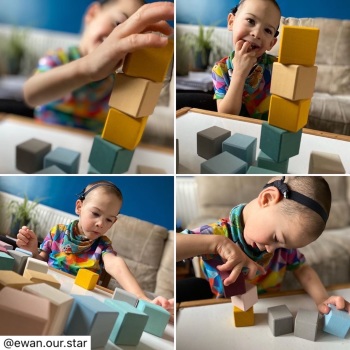 @ewan.our.star
Stacking
Building blocks are so much fun aren't they? They have so much play value. For Ewan we use them to help his grasping, reaching, swapping hands, stacking & coordination. But not only are they good for that we can incorporate listening activities too / like pass me the free block or pass mummy two blocks and see how much he understands and also see at what level he is hearing these instructions at.
Ewan really struggles with stacking, aiming the one block on top of the other but he loves to try, even if it is short lived.
Block by Raduga Grez available here
@adventureswithdannyb
Colour Sorting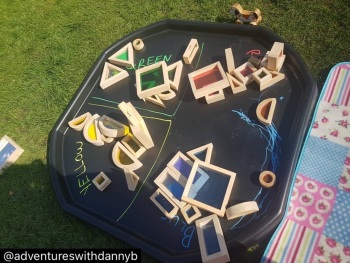 A colour sorting game, separate a few areas with chalk, coloured paper, the rainbow organza works really well for this too.
As the weather was so nice a good outdoor game, these blocks are fab in the sun with the ligt shining through them.
Blocks byTickIT Sensory Rainbow Blocks & Sensory Squares
@little.white.boxes
Things to see in the Garden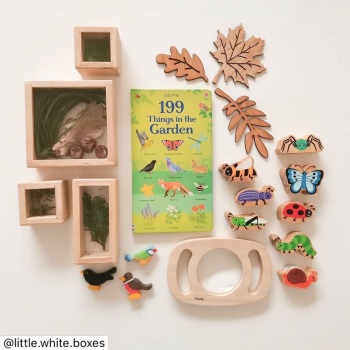 Things to see in the garden, unfortunately we don't have much of one, but we did venture to the local park this weekend and collect some nature for our treasure blocks!
Blocks, holztiger, Lanka kade and tickit magnifyer all available from The Wooden Play Den.
Thank you to Mary, Jade and Leag for sharing your play ideas.