About Us
The Wooden Play Den was established in 2013. I run my business from home and have a few family helpers in my two children, Isaac and Charlotte who are aged 7 and 4 who love trying out the toys. I set up my business when Isaac was just 9 months old and it's grown bigger than I could have ever wished for.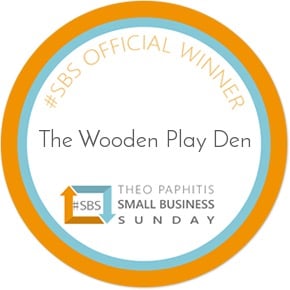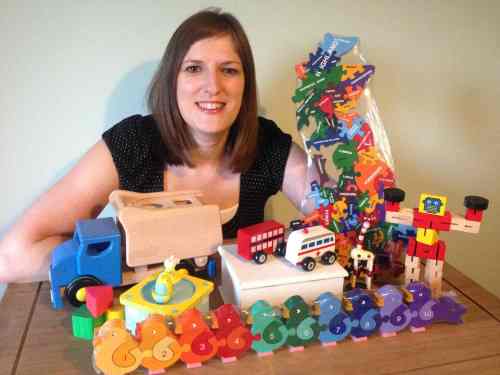 I live in Newport, Shropshire and my two children are my main product testers. I love their creativity and imagination, kids have amazing ideas and they really bring the toys to life, I love seeing my toys being enjoyed.
I love wooden toys, and started the business because I wanted to find different toys that were fun, unisex, aided development, but were also made in an eco friendly and sustainable way. The range caters for babies, toddlers and older children. The online store enables you to browse by age and also by toy type so it's easy to find what you are looking for.
I love supporting other small businesses and I have expanded my range of UK made toys which I am really proud to stock. I have Eric & Albert Crafts, Rudi & Bear, Reel Wood Designs and Little Coach House Works. All of my brands are carefully selected to ensure they match my ethos of supporting learning but also the environment.
If you are looking for fun educational toys, or a special gift, I am positive that our range will provide both. We know many people keep special toys for years to come and our toys are made to last. We are happy to make recommendations, so if you are not sure what to chose why not contact us for advice!
A few testimonials
"We have bought a number of lovely toys from The Wooden Play Den both on online and from a stand at the Newport show. All the toys are beautifully made and are of excellent quality. The Wooden Play Den have provided a brilliant service, all the toys have been delivered quickly and in perfect condition. I'll continue to buy these beautiful toys. Would recommend to everyone."
"Lovely well made wooden toys. Lots of choice, all great quality and at affordable prices. Some unusual ideas that you wouldn't find on the high street. Highly recommended!"
"Great selection of wooden toys. Good quality and price. Friendly and quick response to orders and questions about products."