Activities at Home
Posted on
Activities and Play Ideas at Home
Over the coming weeks, I will be sharing more activities and play ideas that you can do at home with the kids. My lovely reps have put together some of their favourite play ideas to help us all through this difficult time. Look out for a new blog each week.
Laura - @island.mum.island.baby
One of our favourite types of play is building a story sack, this type of play can extend so much. It often develops into roll play, small world play and so much chat. Having a 3 year old and a 5 month old means things don't always get shared, but because a story sack can have lots of props so we all have something to play with. One of my 3 year olds favourite things is reading to his little sister, and the toys help massively with that. She absolutely adores the attention from him too so it's (usually) a win win!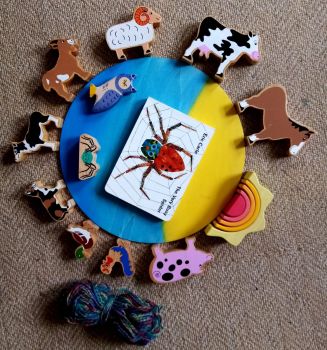 Featuing Lanka Kade Animals, Raduga Grez Sun Stacker, Holztiger Animals and Toys by Nature Play Base.
Elizabeth - @antins_adventures
We love using the construction set for practising fine motor skills, everyday involves some form of using the tools to create something. Now son is approaching 4, he is more interested in having a project to create. It has been a lot of fun coming up with some STEM activities for him using this kit. He is really appreciating how this relates to real life situations now, and assessing objects when we're out and about to work out how they're built.
Featuring Wooden Writing Board and Construction Kit
Sheila - @rascals_and_rainbows
A practical activity for both my girls to complete together, with a follow up cut and stick sorting for my 6 year old. We used some of our animal books to explore how many legs different animals have, instead big sis helped little miss to sort them all. She really loves playing teacher!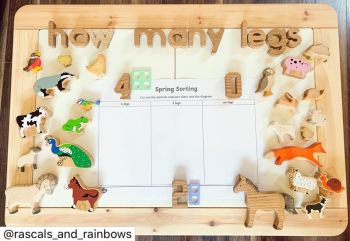 Featuring Reel Wood Lowercase Alphabet, Lanka Kade Animals, Eric & Albert Animals and Holztiger Animals
Thank you to three of my lovely reps for sharing their ideas.