Small Business Showcase - Alexia Claire
Posted on
Small Business Showcase
I had seen the beautiful cards that Alexia created and had received a pack myself which my daughter loved, and thought they would be a great addition to my range. I love to try out the toys on my own children first - they have pretty goof opinions!
I went onto meet Alexia when she attended Autum Fair in 2021. It was great to meet, face to face the creator of the business in a world which is now so digital.
Here I chat with Alexia about her business creation.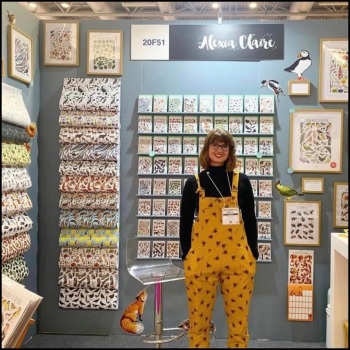 Thank you for taking part in our Small Business Showcase.
To start off I would love to know how your business started?
My business started in 2010 during the summer between my 2nd and 3rd year of university. I was studying textile design and so wanted to start dabbling in selling handmade fabric products. I had just heard about a website called Etsy that was becoming popular in the UK and so I took the plunge!
How did you decide on a business name?
As I knew that I wanted my business for the long term, I wanted a name that could see me through my journey as an illustrator, whatever it was I decided to sell. It seemed the best fit to simply use my name.
What was the first thing you ever sold?
As I was a textile uni student with lots of spare fabric and a sewing machine, my first products sold were fabric pouches for your phone and laptops!
What does a day in the life of look like for you?
I like to write my to do list as soon as I sit at my desk. Plan my day out from the off so as not to get off track. I usually answer email and customer enquiries first, get my orders shipped and sorted and any other admin tasks completed by lunch time so that I can do the 'fun stuff' in the afternoon. Sometimes that might be painting a new piece of work, or scanning artwork into my computer to turn them into lots of different products. I enjoy the whole process of the product creation journey.
What do you love most about your business?
It has to be the ability to lose myself in painting for hours on end. As this is why I do what I do! But I get a huge buzz from doing craft fairs and trade shows too. Knowing that someone out there wants to spend their hard earned money on something I've produced because they like it, never gets old.
What part of your job do you like the least?
Admin and at the moment, sadly all forms of postal service are really stretched and so that's bringing with it a lot more admin and enquiries than usual.
What's your favourite product from your range?
Ohh I can never choose! I produce twelve new paintings each year and usually have a favourite per year. Last year's favourite was probably my 'Scurry of Squirrels' print.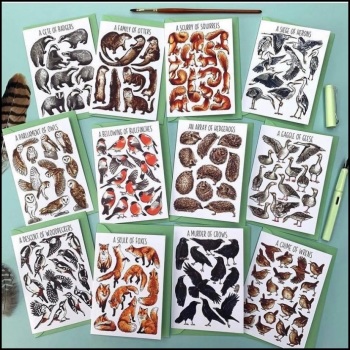 What is your least favourite?
I think a lot of illustrators and designers might feel the same, but the longer ago I painted something, the less I like it as I always feel like I learn something new with each painting I do.
If you could give a mention to another UK business – which would you recommend?
I would love to give a shout out to my good friend Alex from Studio 9 Ltd. She creates and sells beautiful typography based stationery and giftware. Something that I truly admire as I would be useless at typography based design!
What's next for your business?
I am in full steam ahead mode already for painting this year's 12 paintings. I've painted 3 already and have the next 4 all composed and ready to paint. A notebook bursting with ideas and not enough hours in the day but I am hoping to create a lot of newness this year. I'd also love to work with different places to create bespoke artwork for their venue / shop / location.
The Wooden Play Den sell a range of card from Alexia Claire - why not have a browse here