Winter Play
written by Laura @one.wild.family.life
Winter can be such a magical time of year, frost, low sun shining through bare branches, cosy days warm inside. Hot Chocolates, games and the beginnings of the return of greenery and light. Equally, it can be super easy to get stuck in the dark, wet days lacking in inspiration – never ending rain, mud and dampness. There are some toys that I come back to every winter, and specific activities that I find I rely on to fill our days this time of year.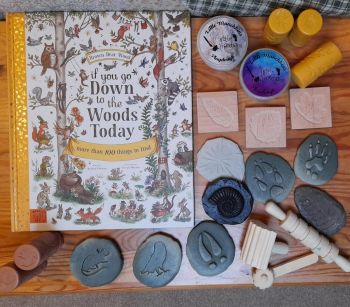 One of my favourite things to do with my two who are 2 are 5 is a bird-watch. There are so many places to go and watch birds, we're lucky enough to have a garden, but a park or wildlife reserve can be equally as full of wildlife. We use our Lanka Kade wooden birds which are great for bird recognition; I pair ours with our bird cards from Little Robin Education. Create a tally chart, fill up some bird feeders, and sit together to see what you can see! It's a lovely opportunity to just sit together while gather identifying, observation and recording skills too.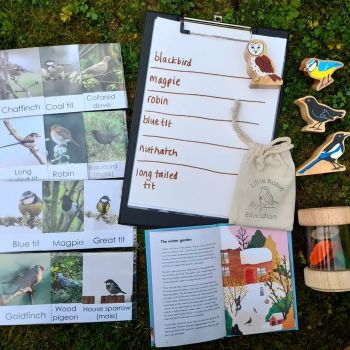 I don't know about you, but I think this time of year is perfect for reading books cosied up under a blanket. The Wooden Play Den has an ever expanding range of books available – fiction and non-fiction, newborn to adult! We love reading, and we love exploring lots of different types of books, our favourite way of bringing stories and ideas to life is by having a basket of toys to match the books nearby. Whether it's a selection of peg dolls, wooden animals or some play dough and tools extend what your books give you by creating story sacks. There are so many toys that match well with books, they extend comprehension and understanding of the book you're reading, they encourage creative play, story expansion and keep little hands busy while they listen. (The Wooden Play Den have even done the hard work for us, putting together amazing book and toy bundles.)
The dark evenings of this time of year lend themselves to star and moon gazing, which can be supported by play and learning opportunities. Playful Little Readers who create beautiful flash cards have both moon phases and the planets and solar system sets. Pair these with the beautiful set of Tickit Education stars, and some loose parts and create giant floor pictures of space, build rockets and fly to the moon!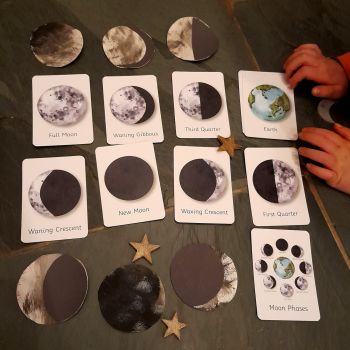 It's no surprise that most kids love crafts! An invitation to make mess and create something beautiful is just so exciting! One thing that can ignite their imagination like nothing else is a cardboard box – we love reusing our packaging from our Wooden Play Den orders, creating all sorts, most recently a hotel for a Lanka Kade spider! How do kids create such wonderful ideas? But did you know The Wooden Play Den has a whole selection of crafts and loose parts ranging from wooden parts to paint and decorate yourself, chalk boards, reusable wipe clean boards for drawing and hand crafted crayons.
Extending on from crafts into play-dough, there is such a wonderful selection of tools and loose parts that can be used alongside the handmade play dough stocked at The Wooden Play Den. Yellow Door educations range is ever expanding and includes rollers, stampers, stones and more – they can be themed to match a topic of interest, for example the fossil stones, some discovery bones, and some Lanka Kade dinosaurs to create a lovely prehistoric play set up. The great thing about play dough is it appeals to so many ages of children, so if you have siblings who want to be doing the same things, but need to tailor it to appeal to different ages it's easy enough to do. My two who are 2 and 5 love including loose parts – Finn (5) will create scenes for small plastic figures or trucks, using the yellow door rollers, Tickit loose parts and more, while Elsie(2) loves nothing more than stamping our farm and safari pebbles into the dough.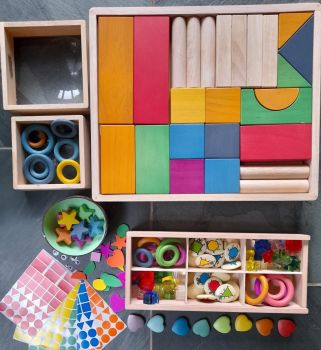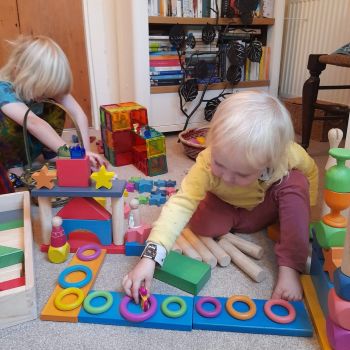 After all these cosy stories, innovative creations and living room enveloping play it's time to get some fresh air! The perfect addition to a winter walk (of course alongside our playful little readers winter spotting cards, and inspired by our 'what to spot in winter' book) are our treasure tubes. For so long we had pockets filled with all sorts of magical treasure found on our walks – but now, taking our treasure tubes along means we don't collect too much, but we can also keep a track of what we're finding and enjoying looking for. There are so many toys that can be added into a walk to make it more than just getting from A to B, shape viewers, seasonal and wildlife spotters cards, magnifying glasses, colour or glitter viewers or even wooden animals to join you on the way!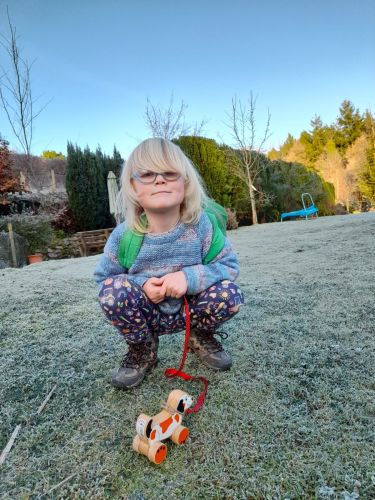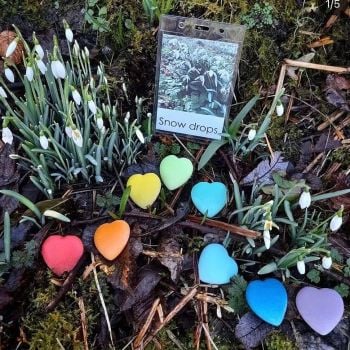 Winter – full of opportunity to cosy up, create, seek fresh air and play.