Wonderful World of Books
Posted on
Wonderful World of Books
Books are and absolute gift to parents, they offer your children magical worlds, learning opportunities, connection to the world around them, quiet time, answers to inevitable curiosities, and a wonderful opportunity to bond and relax together.
The Wooden Play Den has a plethora of books, fiction and non-fiction which will guarantee to inspire and enthuse both your children and yourself, because let's face it, if you've got to read you child's favourite book on repeat you want it to be a good one!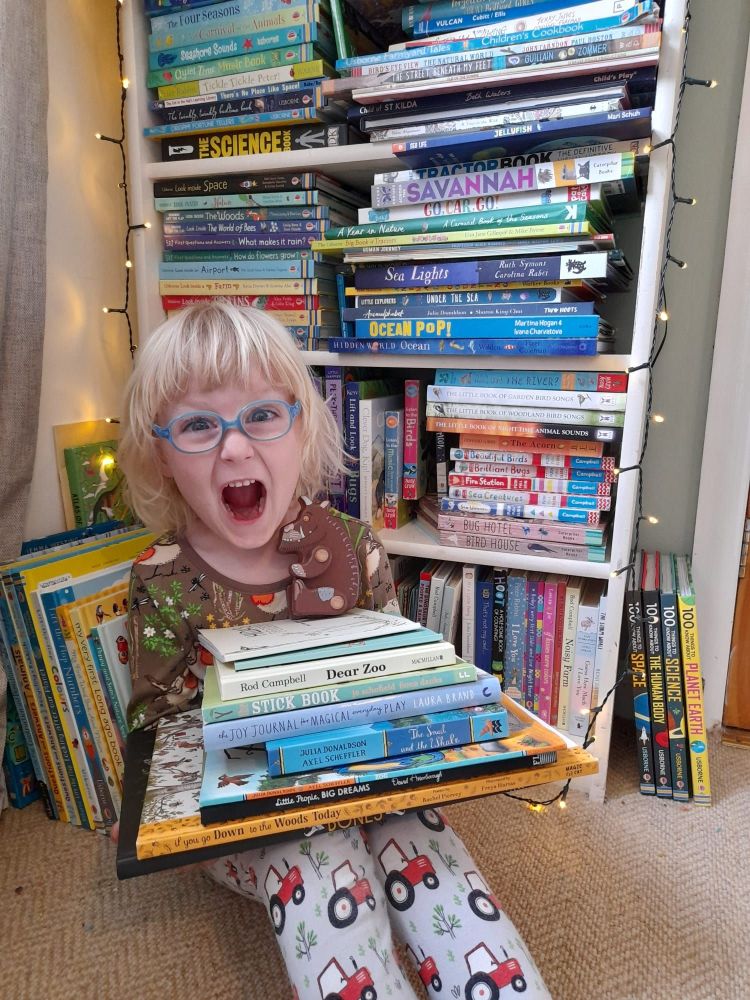 Here are some mini reviews of some of our favourites:
David Attenborough Little People
This is one of my 4 year olds favourites; he is such a fan of Attenborough, and loves the illustrations in this one. It's so inspiring reading about real people, and following their life stories. It introduces so many topics that young children can get totally immersed in. There are so many options to pair this book with toys and resources too: binoculars, wooden animals, ID cards or/and world map puzzles!
If you go down to the woods
One of the most beautiful books on our bookshelves (which are pretty full), this book takes you through the 12 months of the year, following a sweet little bear. A poem for each month,stunning seasonal illustrations, and lists of things to spot within the beautiful pages, definatly one for when you need a spot of quiet time. Both my 1 and 4 year old love this one, and it's great to look at together because you can edit what needs to be found for each child. We pair this book with our Holztiger bears, and woodland wooden animals.
A modern day classic, an enchanting story, which is loved by all who read it. This book is certainly one which is then mirrored in play in our house: who doesn't want to be a cheeky dragon flying around having misadventures?! My kids love dressing up in our play silks and organza to wiz around like Zog.
This book is one of the first books my now one year old fell in love with, it's so simple, but the flaps provide lots of entertainment for little ones. This book paired with Lanka Kade figures would make the sweetest gift. The figures are perfect for little hands, and give the book extra learning opportunities, little ones love making animal noises and stacking the figures.
This is one for the grownups to use alongside their children, it is full of amazing ideas of how to play with sticks! Chuck it in your bag and head to the woods or the park and have some fun. There are activities for all ages, and its full of photos to inspire you. The instructions are easy to follow too. Certainly one you'll come back to again and again!
Joy journal for everyday magical play
Another one for the grownups. This book is full of ideas, and reminders of simple activities to offer your children. It is so detailed, and inspiring. Written by a mum, for parents, it's full of great ideas that you won't need any crazy ingredients for. Using things you have in your cupboards and toy baskets already this is a book every parent can use. (Don't forget to put the kettle on for a cuppa while your kids enjoy the play you've set up for them.)
This book certainly has the WOW factor. It's full of so much information presented alongside amazing images. It will grow with your child, you can take from it different things for different ages and interests. Full of fascinating facts this is a great book that can be woven into topic work, home education, and interest led play. We often pair this one with the Yellow Door bones, sometimes some playdough too.
This duo of books provide a great introduction into some topics that can be quite overwhelming to explain to children. Looking after the planet, cleaning up our rubbish, looking after wildlife and ensuring the wildlife are safe and living happily. The simple but enchanting illustrations tell the story so well, and they are so accessible for younger children to understand the importance of looking after our land and ocean. They are great when paired with little animals, one of our most popular play set ups was rescuing the animal characters among the 'rubbish'.
One of the newest additions to the range of books available at The Wooden Play Den this beautifully illustrated book follows a little hermit crab finding a new shell. I loved that the story showcased the strength of the smallest hermit crab, and installed the idea that if you have a good idea you should believe in it. This is a great one to read outside, on the beach if you can, then search for shells, go rock pooling, and look and sort the shells you find. If you can't get to the beach The Wooden Play Den have a great set of tactile shells which are perfect for play.
The Wooden Play Den has a great selection of books, and a great selection of toys and resources. Together they can be paired to create amazing play, learning opportunities, and to enjoy time with your children.