Games for all the Family
Posted on
Family Games
During the School Holidays I love to find activities which are enjoyable for both my 8 year old son and my 5 year old Daughter, whether its exactly the same activity or the same toys with some adjustments to suit one of them. Its so much easier if we can all play with the same equipment rather than having two sets of toys out all the time. I picked out my top 3 games get you started, which work great for us across the age range.
Set up the pins and create a throwing line for children to stand behind. The aim of the game is to throw the stick get a score of 50 by adding up the numbers of the pins that you knock down.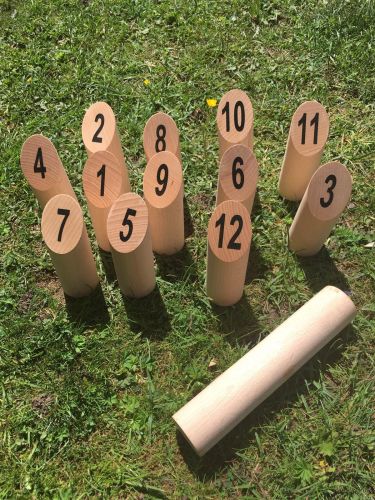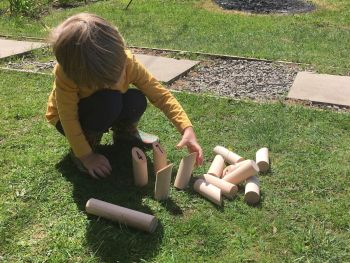 This game can be adjusted in a number of ways to suit different ages:
Adjust the throwing line or have different lines for different ages
Rather than adding up the numbers - knock as many down as you can.
How many throws does it take you to knock all of the numbers down?
When we played, I encouraged my daughter to read the numbers and my son added them up! Giving them both an activity which suited their maths ability.
It was a great garden game, and one with lots of possibilities.
How are your problem solving skills? Have you got a steady hand and a bit of patience to suceed in ths game?
It's a great game for anticipation for the children and my two loved playing it toegther. There are a few options of how to play, so you can tailor it to the ages and preferences of your children:
Collect the most wooden balls to win - the aim of the game is to make them all fall!
Collect a certain colour to win - each player choses a colour and tries to make only those ones fall.
Last ball out wins. Try to pull out sticks and keep the wooden balls in.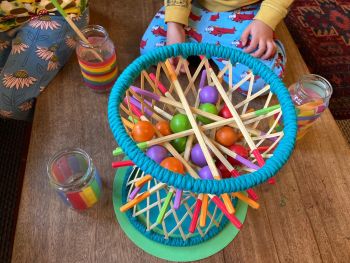 A truely open ended game. Build a track, and watch them fall over. We played this for hours and something my children come back to over and over again. They create different shapes and patterns. They also sort the dominoes into colour sections and use varying distances between them to see how they fall. It challenges their minds and keeps them engaged.
Definately one for inside, but a really good options for a wide range of ages.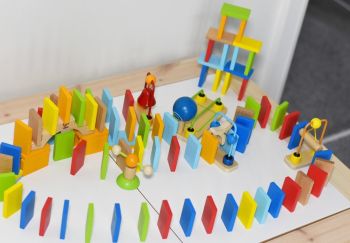 I hope you have enjoyed the blog and it has given you some ideas.
Our full range of Playsets & Games can be found here.