Mud Kitchen Play
Posted on
Mud Kitchen Play

Written by Sheila O'Reilly
Www.instagram.com/rascals_and_rainbows

Mud kitchen season is upon us again with all the glorious sunshine over the past few weeks! My girls have been so busy concocting all sorts of creations for us to eat and drink in their new kitchen and I'm so delighted that the mess is being created in the garden and not the living room🙌😅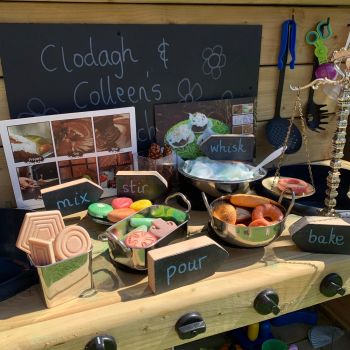 The open-ended nature of mud kitchens can provide many learning through play opportunities and they are the perfect resource for hours of open-ended fun!

Mud kitchen play is wonderful for developing creativity and imaginative play. Children also develop oral language and communication skills by talking about about what they are doing, answering questions about how they are making mud pies etc and communicating with their friends/siblings through role play games. There are lots of opportunities to develop literacy skills through writing recipes for mud pies, creating menus for a cafe and drawing letters in sand or mud.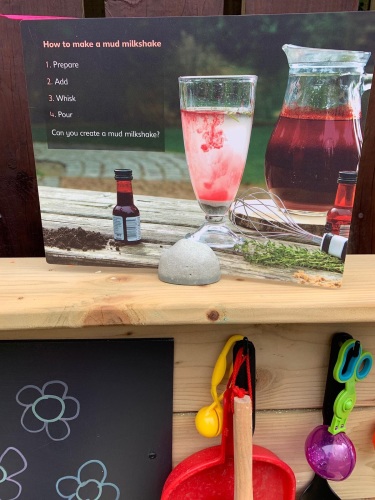 Children can develop their gross and fine motor skills and hand eye coordination through using kitchen tools like tongs, spatulas, whisks, forks and spoons, transferring and transporting ingredients in different containers like pots, pans and jugs.

You can also use the mud kitchen to provide opportunities to develop maths skills and concepts including Number- counting the ingredients being added to a mixture, matching numbers to quantities, Measure- measuring water to be added, weighing ingredients. Money- using money in a mud kitchen cafe.

Children develop their social and emotional skills through sharing and taking turns, role playing every day scenarios and developing confidence by creating their own games.

There can be lots of opportunities for STEM play and exploration too, allowing children to investigate, problem-solve and make their own discoveries.

And of course lots of opportunities for sensory play. Children can explore different textures, colours and properties. Our favourite sensory bases include water beads, kinetic sand, chickpeas, soap bubbles, slime, coloured rice and mud of course😅.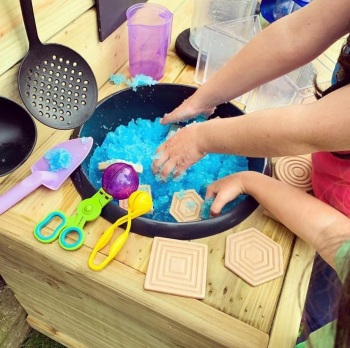 Some of our recent mud kitchen play included a mini beast kitchen, using sand, utensils and a variety of bugs; sensory shape play using our shape stones and fine motor tools in gellibaff; mud kitchen milkshakes using an idea from our mud kitchen cards, I provided them with a variety of coloured water and they explored colour mixing and adding fruit and veg stones to make their milkshakes. I also explored the language of capacity in this activity by talking about which container was full/empty/half full etc. They also enjoyed making mud pies using grass, leaves, daisies and compost...very tasty😂.

Sometimes I like to simply fill the basin (sink) with water and fairy liquid and they both love using their scrubbing brushes to wash the dishes! The next hot day we have, I want to set out a citrus kitchen with fresh slices of lemon, lime and orange. I've seen this idea before and it looks so refreshing for a hot, sunny day😍.
Another idea for the Summer weather is setting up an ice-cream station using dyed shaving foam...nice and messy, but at least it's outdoors😂.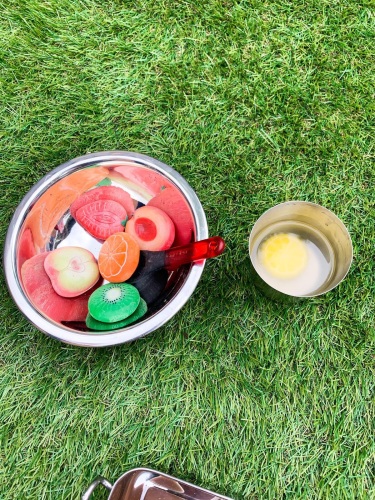 There really is no limit to the variety of activities you can set up using a mud kitchen and there are so many educational benefits for children. It has been the best addition to our garden this summer (even better than the trampoline!!)
There are lots of fab resources for outdoor, messy play on The Wooden Playden website and second hand shops are brilliant too for sourcing metal tea sets, pots and pans. I found a fab set of metal balance scales in our local charity shop which are perfect for our mud kitchen! My girls love using them to compare weights when they are in the throes of 'cooking' and 'baking!'

I hope you find this blog useful for your mud kitchen play. Enjoy all the milkshakes, pies and ice-cream!!😉😍