All about Bugs
written by Laura @island.mum.island.baby
Bugs; a topic that provides my little boy with a lot of joy. At four years old Finn has always loved insects, whether they fly, crawl, hide or sting he want to spot them, watch them, hold them and learn about them.
It's certainly an interest that can easily be facilitated in both play, and preschool 'learning' set ups. We have some fabulous toys and learning aids from The Wooden Play Den which are used most days. Our Lanka Kade bugs are perfect for adding into story sacks, while using both fictional and non fiction books, we especially like using them when talking about the different habitats bugs live in, and making them little homes of their own. They are so robust, perfect for taking out into the garden, or on a walk, and hiding them for a little bug hunt of your own.
The other items we usually have to hand while outside are our magnifying glass and bug pot. Perfect for hand eye co-ordination, a toddler hand sized magnifying glass can add a lot of joy to a walk. It also encourages the little ones not to go right in and touch the insects. They are perfect for encouraging your little one to use descriptive language and talk about what they are observing. The bug pots also come with a magnifying lid which again helps observations without harming the bug. Pair these with an ID book to check off what you see and you and your little one can have hours of fun.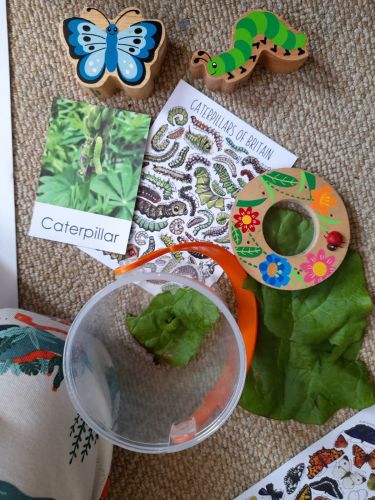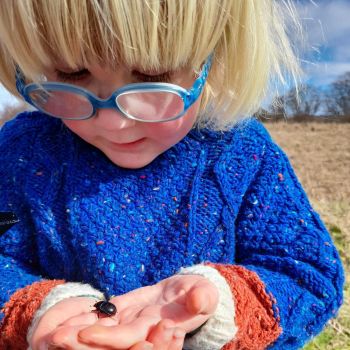 We absolutely love our Little Robin Education Identification cards, with a photograph of the insect they allow your child to use their own skills to ID creatures. They can be used to create games too such as guess who, story creation and spotting which one is missing. Pair them with an ID guide and again get out and about with them.
If the weather isn't on your side for bug hunting, the yellow door play dough rollers and insect stones are absolutely amazing. Play dough is the perfect tool for calm and quiet play, fine motor skill enhancement, pre writing muscle strengthening and loads of fun. The rollers and stamps add an extra element, pushing, pressing, creating pictures. They also pair nicely with The ID cards for matching and the Lanka Kade bugs too.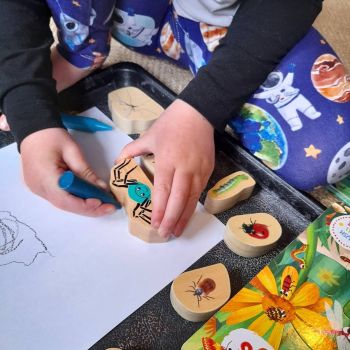 Our most recent addition to our bug tool kit is The Den Kit Co bug hunting pack. Full of great additions like a notebook for field observations (the stick pencils will be perfect with this) and my sons favourite, the pooter. The Pooter allows you to suck a bug along a tube into a viewing chamber without picking it up. We have used it to collect spiders from the bath tub, caterpillars from the garden, and lots of other insects have found themselves in our pooter too!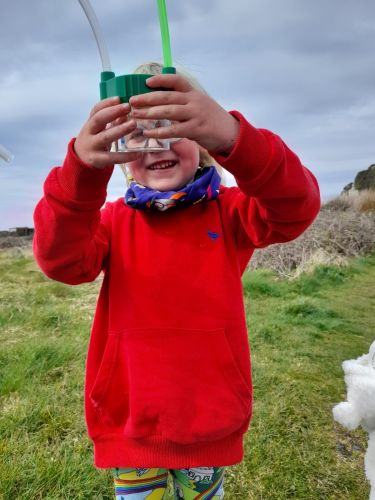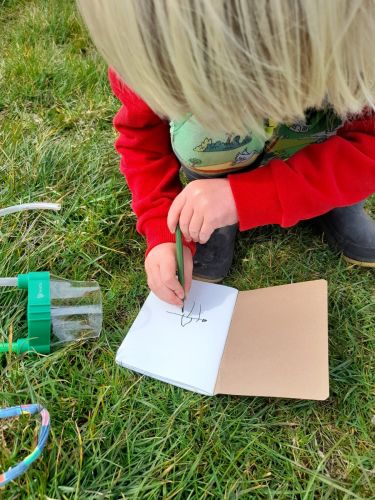 The Wooden Play Den has such a great selection of bug related toys and they all link together so well. If your child shows an interest in bugs, there are a plethora of resources available (and no bug touching is necessary!). The magical world of bugs is there to explore and with the addition of some fun toys it's really easy to promote.
To find the whole range of toys and books about mini beasts - click here.