Exploring emotions through bookish play
Posted on
Exploring emotions through bookish play
written by Sheila O'Reilly @rascals_and_rainbows
Anyone who follows my Instagram account will know that I am a huge fan of bookish play. Fictional stories provide opportunities for children to explore and develop all sorts of skills including social and emotional development and language development. As Mental Health Awareness week draws to a close, I thought it might be helpful to share some stories and bookish play ideas that I have used for exploring emotions with my two girls.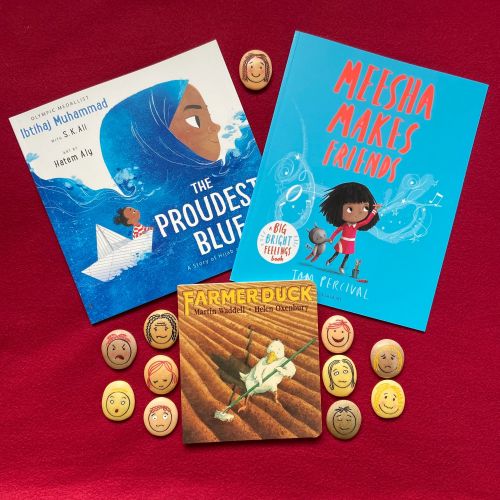 Stories provide children with lots of opportunities to see from another character's perspective, thus developing empathy and emotional literacy skills, talking about their own feelings and emotions. I have used bookish sets ups with a variety of stories including 'Farmer Duck' by Martin Waddell, 'Meesha Makes Friends' by Tom Percival and 'The Proudest Blue' by Ibtihaj Muhammad to talk about the feelings of the different characters.

Some examples of questions for Farmer Duck:

'How did the duck feel when he had to do all the chores by himself?'
'How would you feel?'
'Would you help the duck if you lived on the farm?' 'What jobs could you do?'
'What kind of person is the farmer? Can you think of lots of words to describe him?'
Pictured with: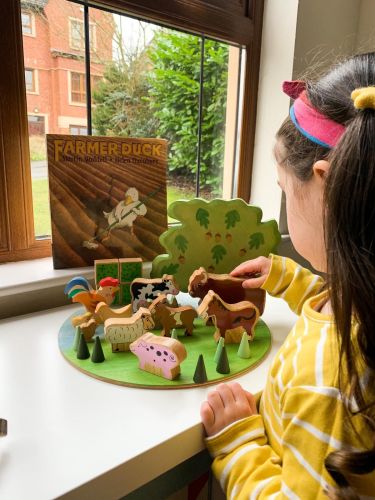 In 'Meesha Makes Friends', Meesha doesn't know what to do or say when she is trying to make a new friend. It is the perfect book for children exploring the tricky world of making (and keeping) friendships. I often use resources such as Emotion stones and play dough along with stories as they encourage and stimulate more conversation about feelings. Quite often children find it so difficult to describe how they are feeling and anxiety can often present as a 'sore tummy'. By using stories and story props, children become more familiar and confident with ways of describing their feelings.
Pictured with:


'The Proudest Blue' is another wonderful story for exploring emotions. It describes how important the hijab is to Muslim girls and how the characters in the story deal with other children's unkind and hurtful words. The story conveys a message of love, tolerance and kindness. My girls really enjoyed this story and it stimulated lots of conversation about accepting and embracing differences in everyone and how to be a good friend.
Pictured with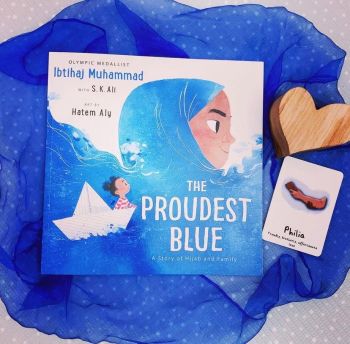 Both my girls enjoy drawing pictures from stories or story characters. I encourage my seven year old to write words to describe different characters, whereas her little sister orally describes characters. This is a great way to develop and extend vocabulary, emotional literacy and spelling development for my seven year old. She has also previously created 'Wanted' posters for different characters which is another fun bookish activity for older children.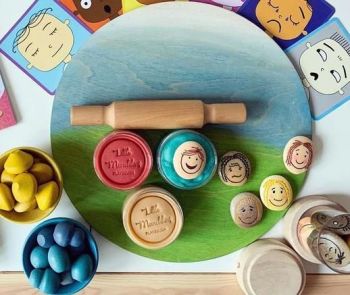 It is so important to equip our young people with emotional literacy skills so that they can effectively communicate how they feel and have empathy for others. Bookish play from an early age is a wonderful strategy for parents to implement.
All of these wonderful books are available to buy on our website. To see our full range of books and Story Sacks please click here