Toys for Out & About
Posted on
Toys for Out & About
As the UK restrictions are starting to ease and things are opening up. It is great news that we will be able to enjoy days out, although I am also a bit apprehensive about taking the Children out again.
It used to be second nature to take a bag of toys craft activities, spare clothes and anything else we might have needed. However I have completely got out of the habit now and need to think again about what's on the list.
My two children have changed so much over the last year, so the bag of toys which once used to be a hit needed a review. I thought I would put together some of the things that will be in my bag once we start to go out and about again. I hope it helps:
1. Pen and Paper
These are always in my handbag, where ever we go they are essential items. Whether your children like drawing or not a pen and paper can really help keep them entertained. You could draw a picture for them to guess, or for older children you can play noughts and crosses or hangman.
I gave this to my children last year during the summer holidays when we had a few meals out. It was great for both of them Age 5 & 7 at the time and it will continue to come out with us. It is a selection of shapes in a tin, there is a leaflet for ideas of what to make. My son wanted to go through each one and make the picture and my daughter preferred to make up her own. The set was big enough to keep them both entertained with a bit of limited sharing needed!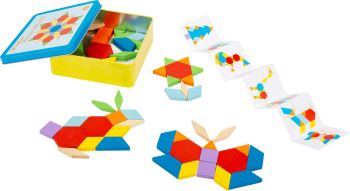 Just like noughts and crosses but cute wooden piece instead which come in their own bag which doubles up as the board. A really good small game for two players. So easy to put in your pocket or handbag.
4. Nine Men's Morris Travel Game
An old English game with the objective to capture opposing pieces by forming lines of 3. A easy to learn game, but requires great skill and patience. The bag includes the pieces and doubles up as the game board.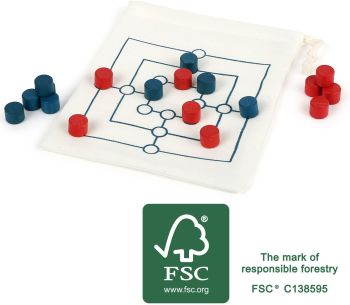 Included in this games are magnetic pieces and fishing rods. Requires skill patience - great for working those fine motor skills too. Would double up for younger children about ocean and sea creature play.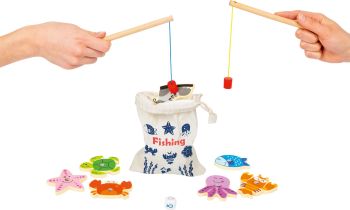 6. Smallworld play mat and figures
Coming in different themes these play sets are so sweet and perfect for on the go. The Play mat doubles up as a bag and all of the wooden pieces can be enclosed. Great for smallworld play and story telling.
London and Safari Themes available.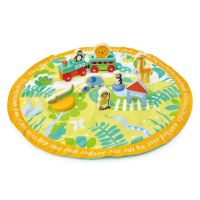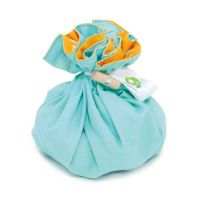 If you are going out to a pub or restaurant, why not take a story sack, whether you buy one already put toegther or put together your own from books and toys you have at home.
Having a story can be really calming so often good for somewhere when the children need to sit still. My two will be happy to play along with the figures as I tell the story, but also continue their play after the book as finished by using the pictures and accessories I have brought along. We have a selection of Story Sacks available to buy which all come with a cotton storage bag to store all of the pieces included.
If you are going somewhere in the great outdoors, why not consider taking one of our adventure range. These Safari Binoculars keep them entertained for hours. These have to be the most popular along with our Easy Hold Magnifier.
Great for little explorers.
A game of patience and balance, this is going to be a great new addition for my 5 nearly 6 year old and will be a good one for my 8 year old too.
No loose parts so easy to pop in your bag, the magnectic stick is attached to the board by a small string.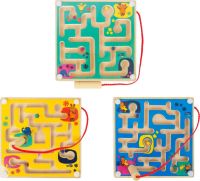 I hope you have found this useful and makes for lots of fun summer days out!
Please message if you would like any more recommendations.