Ways to Play - Yellow Door "Lets Investigate Stones"
Posted on
Ways to Play - Yellow Door "Lets Investigate Stones"
These unique resign stones are one of our most popular toys here at The Wooden Play Den. They are suitable for outdoor and messy play and can be washed easily. They are all approximately 7cm x 8cm The footprints range are double sided with the animal on one side and the footprint on the other. The sets available are:
Safari
Farmyard
Woodland
Dinosaur
Polar
Other stones available which are one sided are: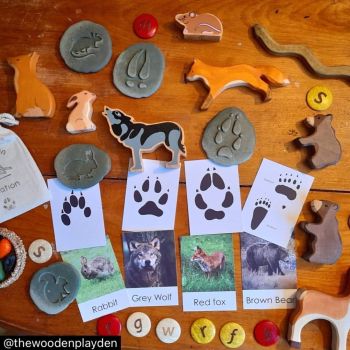 All of the sets work really well with playdough, sand and any messy play set up. They are also perfect partner to our Wooden Animals, whether your preference is Holztiger, Eric & Albert, Lanka Kade or Tenderleaf, you can match your animals to your footprints and stamp the shapes in playdough.
I have put toegther a few other ideas of how to combine these stones with other toys from our range.
The Bug stones are one sided and contains 8 stones each with a different bug, ant, beetle, butterfly, centipede, dragonfly, ladybird, spider, and woodlouse.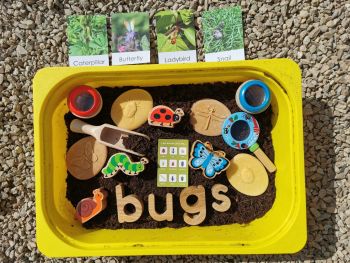 The Bugs Stones go really well the the Little Robins Mini Beasts Cards, Lanka Kade Insects and also the Magnifying Glass as well as The Den Kit Bug Spotter Kit and The Entomology Kit
Perfect for mini beast lovers.
The Fossil Stone Set include 8 different stones all one sided.
They work really well with Fossil Ned and also the Dinosaur Bones. Why not create your own fossil dig in the sand or soil outside.
Set of 8 - Lion, elephant, rhinoceros, giraffe, hippopotamus, ostrich, cheetah, and zebra all showing the animals on one side and the footprints on the other. The Stones can be combined with the Safari Story Bag, Safari Binoculars and also the Wooden Puzzle Safari. As well as your favourite wooden animals. Create your own zoo and move into smallworld play.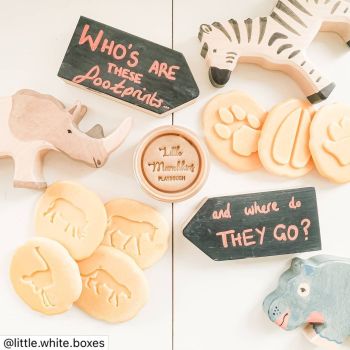 Set of 8 includes: cow, horse, sheep, pig, dog, cat, chicken, or duck.
Some of the first animals a child learns are often within this farm set, Cow goes moo, sheep goes baa. A lovely starter set with some familiarity.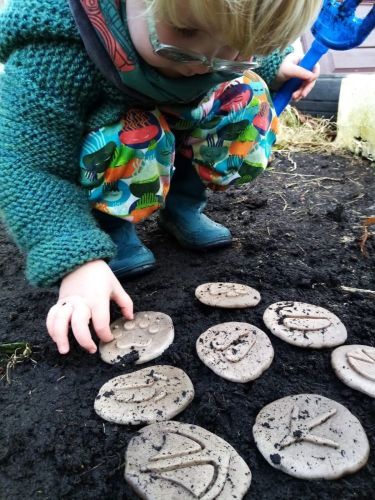 @island.mum.island.baby
Lovely to be combined with the Stacking Farm Yard and What the Ladybird Heard Story Sack.
8 different dinosaurs included in this set~: Apatosaurus, Deinonychus, Hypsilophodon, Iguanodon, Quetzalcoatlus, Stegosaurus, Triceratops and Tyrannosaurus Rex.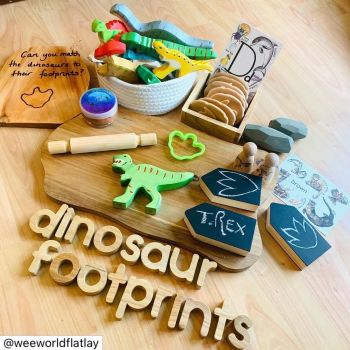 Learn more about the dinosaurs included with the Dinosaurs & Other Prehistoric Animals Book. Dinosaur Bones and the measuring activity cards also work well to extend learning.
8 stones, all showing footprints on one side and the animal on the other. the set includes fox, squirrel, rabbit, frog, deer, buzzard, owl, and mouse.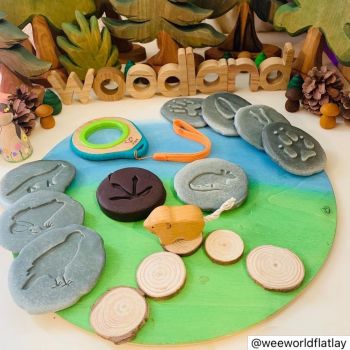 On your next walk - why not try and spot some tracks and come home and recreate them in the soil/mud int he garden or sand/playdough inside. These stones match really well with the Little Robins, British Mammal Tracks Cards.
The Polar set includes polar bear, reindeer, wolf, musk ox, arctic fox, arctic hare, albatross and penguin.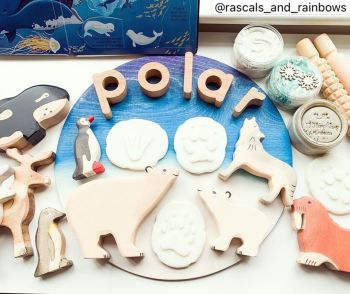 As part of a play set up why not use the Toys by Nature four seasons play base and the Play Igloo. To extend discussion around animals why not use the Arctic Jigsaw - 24 pieces.
I hope this has been useful! I am sure you can tell how much we love them here.
Thank you to all of the lovely ladies who have shared such wonderful photographs which I have shared as part of this blog. (tags on photos).