Toys to improve fine motor skills and hand strength
Posted on
Toys to develop fine motor skills and Hand Strength
Fine motor skills and hand strength help children perform important everyday tasks such as, feeding themselves, zipping clothes and writing and drawing.

Fine motor skills are an important factor when children are learning to write and the strength and dexterity in their hand can assist in their success or hinder their progress.

Two recent additions to The Wooden Play Den provide great opportunity for development of fine motor skills and two of my lovely team tried them out with their children.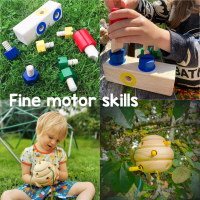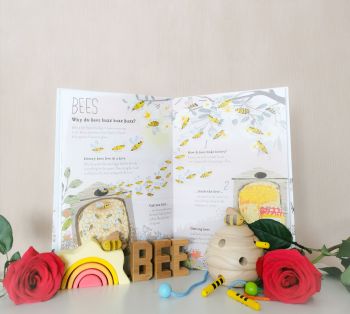 We are a big fan of Guidecraft here as the quality is so good, this beehive lacing toy is solid wood and the lacing bees have held up very well with a rough toddler.
The laces are long enough that they can be threaded through the beehive multiple times, making this suitable for various capabilities.
The beehive encourages curiosity as well as aiding hand to eye coordination and fine motor skills and because it's so eye catching it encourages your child to learn through play. We have used this for that purpose and it's been great to use in small world play.
It's great quality, comes with 3 bees on strings making it more fun, inventive design and I can see this being enjoyed for many years to come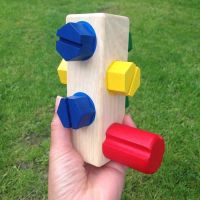 Both kids, aged 6 and 2, tried and tested it and both kids enjoyed playing with it. Amélie (6) said she can screw the screws in by hand but the screw driver adds more challenge which she likes. She also enjoyed aligning the screws into simple honeycomb shaped patterns. Toran (2) immediately called the screw block a "puzzle" and has enjoyed matching up the screw colours, using the screw driver and getting me to undo all his work so that he can do it all over again.
Not only is the Screw Block fantastic for fine motor skills and control, but we've also found it's fantastic for developing focus and concentration too.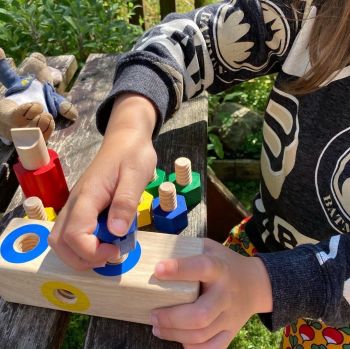 Made from sustainable rubber wood, the Screw Block is sturdy and feels very well made. I personally really love how compact this toy is too. It's small and easy enough to grab and go, stick in a hand bag/back pack for days out, or have in the car as a travel activity. It's really neat how the screw driver pops into the block, held in place by a rubber ring, so that the whole Screw Block is kept together, rather than having lots of loose pieces to store.

Finally, I was having a play with how we could "extend" this activity further with my eldest. The Screw Block is aged 2+ years, so for Toran, he is happy enough, repeatedly screwing, unscrewing and colour matching. For Amélie though, a little more challenge is required. With 6 screws, we can introduce counting and numbers using a dice and make a game. Each screw is given a number and the challenge is to roll the dice and screw the corresponding screw. How many times did we need to roll the dice to be able to get all the screws in? Can we do it in less rolls? How long did it take? Can we do it faster? In fact, there are so many ways we could extend this Screw Block for the older child's engagement. Is it slower or quicker if you use your other hand? Which way do the screws turn? Clockwise or anti-clockwise? Can you screw in half the screws? How many screws go in one side? Why? What is that as a fraction?... ❤️
I am really pleased that the children enjoyed the toys. Thank you to Donna and Rosalind for writing the reviews.