Den Kit - The Natural Fabric Art Kit
Posted on
When we saw the most recent additions to The Den Kit Co products we loved them instantly and knew we just had to try them out. We previously hadn't had anything prior from this brand so we were really hoping once the kit arrived it was as much fun as it looked! We chose the natural fabric art kit and it did not disappoint!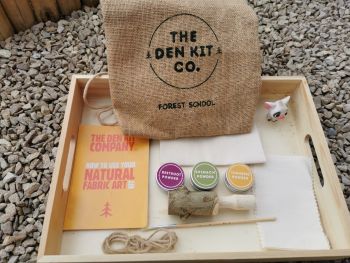 It all came in a beautiful hessian drawstring bag which is ideal for carrying with you either out and about or for at home as well as being really handy to store the left over supplies for another day. The handy leaflet was informative enough about the two techniques that supplies were included for could be used for.
Firstly Jack decided he wanted to use the three natural dyes for painting his flag. The three little pots contain beetroot powder, spinach powder and turmeric powder. The lids unscrew and do this carefully as the pots are full right to the very top which is great as it means there is plenty left for at least a couple more projects! Jack enjoyed smelling them to see if they did smell natural and they did! The beetroot reminded him of chocolate and beetroot brownies and the turmeric of sunshine rice so they smelt so yummy they were making him hungry! We sprinkled a small amount of powder into a pot and added just a small amount of water and mixed with the brush provided. You can change the consistency easily by adding a little more powder to thicken it up or a little more water if the powder got a bit clumpy. We found small amounts of each worked best and the colours were really vibrant with only a little powder which was brilliant!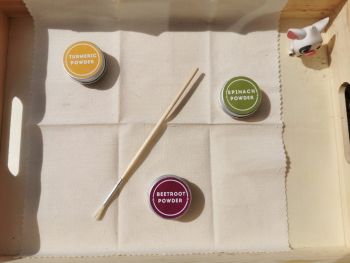 Jack took nature as his inspiration and decided to create his flag with sunflowers, a flower and some grass to encourage and provide for the bees. It was a really simple activity but it created so much thought and enjoyment that it is definitely an activity we will do again as well as inspiring us to have a discussion about what other things we could use for our own natural dyes that could create different colours.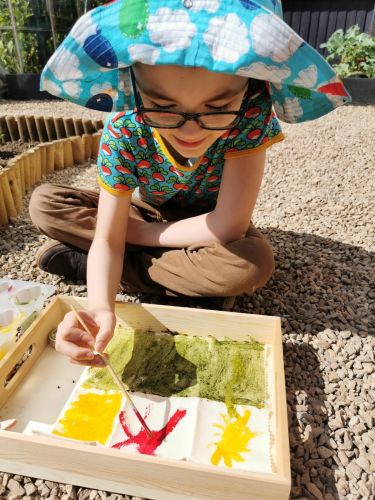 Also included in the kit was some bunting flags and a hapa zome. We had never heard of one of these before but the leaflet explained that it was the Japenese art of hammering flowers to get the pigment onto cloth otherwise known as 'flower pounding'. The hapa zome is really sturdy and made of wood so is lovely and tactile to hold in little (and big) hands, but also worked really well with the flowers Jack selected from the garden. They didn't take much to get them to imprint so could easily be used with younger as well as older children as long as little fingers are out of the way. It made such beautiful prints on the fabric and the flowers pressed onto the bunting also looked really beautiful so we left them on too for a slightly different effect. Using the twine provided once they'd dried out for a little while we hung them up in pride of place in the greenhouse to keep them safe from the elements.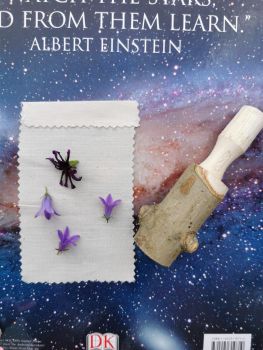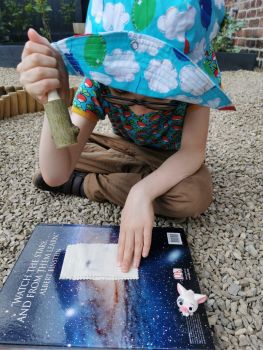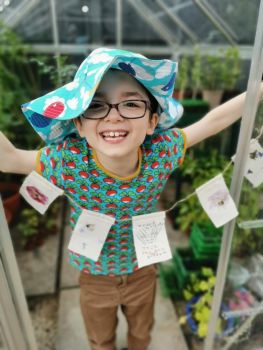 Jack's favourite parts was the whole sensory experience of the smells of the natural powders and to use natural paint for the first time. He mentioned how bright the colours were and how he didn't expect them to show up so well on the fabric with being a different kind of paint. He loved the hapa zome as he enjoyed giggling choosing which of mummy's flowers he was going to hammer next 😂! That really tickled him and to make up for bashing my flowers he suggested that it go up in the greenhouse so that I can still see the flowers albeit a little squashed! He's gave the kit a big thumbs up and a firm 5 ⭐ rating!
We will definitely be adding more kits to try from The Den Kit Co after how much fun he's had with this one! Maybe for the next one my flowers won't take such a beating 😉, but for such a beautiful piece of natural artwork, we'll definitely be using the hapa zome again, maybe even to extend our flower bunting or to make some as gifts for family and friends.