Wooden Baby Toys
Posted on
Blog by Laura @ island.mum.island.baby
The Wooden Play Den has an amazing selection of toys that can enhance a baby's experiences and development, and that have a good level of longevity in them too. Elsie has been playing with toys from the wooden play den since she was born, and already at 10 months old is showing preferences for her favourites. It's really great to be able to play collaboratively with your baby, while also enjoying the toys and variety yourself. I'm here to tell you about our top selection of toys: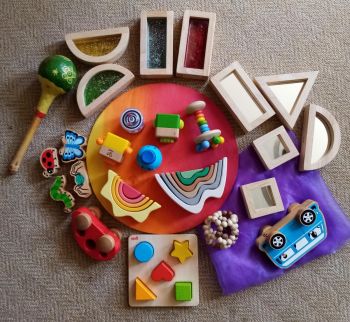 Wooden rattles: These first toys (for me anyway) become like old friends, the nostalgia of a baby's first toy made me want to select something beautiful as well as beneficial. The selection of rattles at The Wooden Play Den are fantastic for first grasping and co-ordination. They are engaging without being overwhelming and are perfect for babies to learn how to grip, hold and shake.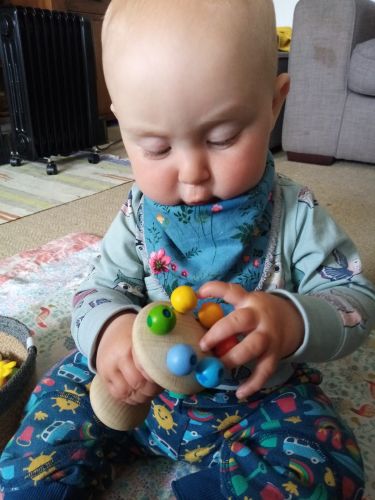 Einstein Blocks There are so many benefits to these little blocks, and they are just the right size for little hands to pick up and explore. In this set there are 4 blocks, each one focuses on a different sense; vision, sound, touch and fine motor. Elsie definitely favours the vision and sound blocks. They can be stacked as well, so her favourite past time of tower knocking over began! These have great longevity too, and are also enjoyed by my 3 year old in his play and building.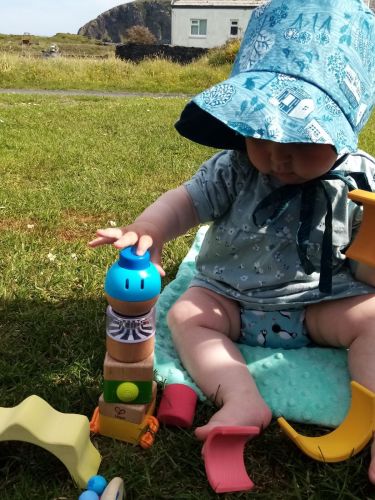 TickIt Mirror Blocks: We gave this set to Elsie for her first Christmas, and have played together with them ever since. When she was much smaller, before she was moving we led her on her tummy with towers in front of her, and on her back with them either side so she could observe the reflections. They were great when she started grabbing too, and that really fun stage of self awareness could begin when she noticed her own reflection in them. We have found these to be the perfect collaborative block between a baby and an older sibling. They both can use them together and independently which is great.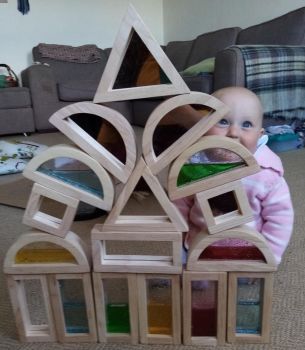 TickIt Organza's: The organza's are some of our most loved toys in this house, perfect to start playing with when you have a baby, we use them for hide and boo, threading hoops on to explore, sensory play, colour play, den building and so much more. The possibilities are endless. It is so lovely to play with your baby and see their interest and enjoyment. To also know that you are providing your baby with the benefits of first development is priceless.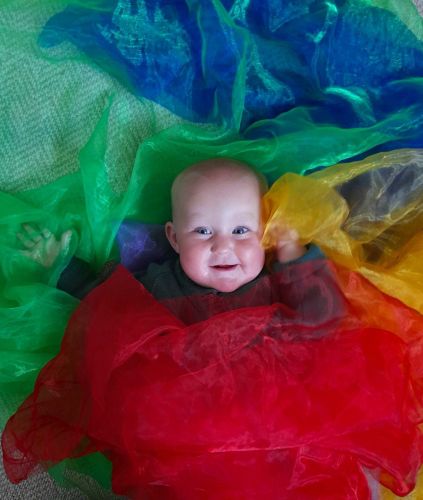 Cars: Babies love anything with wheels (especially when you have a vehicle obsessed big brother like Elise) The small wooden cars are so lovely to hold and push and pull along, supporting grasping and the idea of movement.
Musical toys/Music boxes: One of my absolute favourite things to do with Elsie, who is now 10 months is play with a selection of musical instruments. I usually get out a little selection of musical instruments and explore them with her. She's great at imitation and really enjoys this type of play. Don't all kids love to make noise too?! Again this is a great activity to do with older siblings all together, and promotes observation, movement, self awareness, listening, fine motor skills and so much more.
The Wooden Play Den has a section on the website for baby toys where you can find all of these amazing toys!
Thank you to Elsie for trying out so many of our toys, really pleased you like them.