Small Business Showcase - Melodie Treasures
Posted on
Small Business Showcase
I feel fortunate that I can support and work with so many talented creators and small business owners.
To celebrate their talent, I thought it would be good to find out a bit more about the creators behind the brand and understand a bit more about their business.
Our first lovely business is Melodie Treasures, I have loved working with Kath to design our exclusive peg dolls, she is so talented I love the dolls she has created.
Q: To start off I would love to know how Melodie Treasures started?
A: Coming up to 3 years ago, myself and my husband Dion were sat with our friends discussing things I could do to make a little bit of money whilst still being at home. I was a stay at home mum to our two babies, Mason and Elodie who were 3 and 1 years old at the time. Before having our children I was a full time Children's Nanny so we were exploring ideas to suit my interests around the Montessori style of play/learning. My friend suggested making and selling Treasure Baskets, I ran with the idea. After a couple of months I received a message from a customer asking if I do peg dolls, again I ran with the idea, the baskets stopped and the pegs became extremely popular.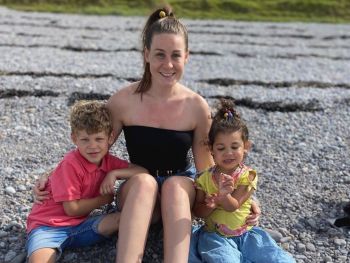 Q: How did you decide on a business name?
A: Ahhh this took SO long to decide! I wish I'd have kept the list of names we toyed with, there were so many! It was actually Dion who came up with the 'Melodie' part - he combined our children's names which I thought was just perfect! And 'Treasures' came from the Treasure Baskets which is where the business started.
Q: What does a day in the life of look like for you?
A: I thought this one would be explained best with a picture.....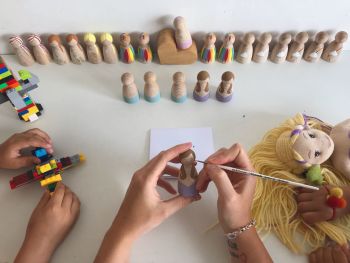 This is literally every day for me. 'Mumming' never stops, even whilst 'Melodie-ing' but I wouldn't have it any other way!
Q: What do you love most about your business?
A: I love most aspects of the business but I think the most amazing thing for me is the friends I've made through it, most of which I've never even met! I have the most incredible team of reps behind me (past & present), I have great relationships with many other small UK businesses (including yourself!) and have become friends with lots of my lovely customers too. I have had a few meet ups through Melodie Treasures and I hope to have more in the future.
Q: What part of your job do you like the least?
A: This is a tough one, I mean there are a few things that I'm not a fan of, like sanding the Peg Dolls before painting or packaging the orders just because it's so time consuming. I think the thing I like the least though is working on my own. It's quite lonely and hard at times with no one to rely on to help me when I struggle, or to give me a kick up the butt when I'm slacking! I am very lucky to have a lovely space to work though.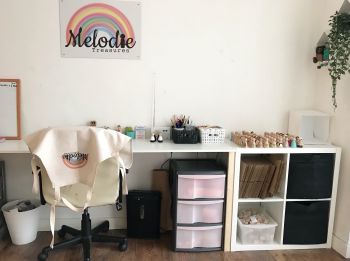 Q: What's your favourite product from your range?
A: I'm sure I've said "this is my favourite" about most things I've ever painted.. I think some of my all time faves are my Mermaids, Rainbow Pirates and Fifi the Flower Fairy.
Q: What is your least favourite?
A: I think I would have to say animals, I try to avoid doing animals as I find them so tricky, especially in family sets where they're pets!
Q: If you could give a mention to another UK business – which would you recommend?
A: It took a very long time to decide this, I know so many amazingly talented people.
I'm going with someone who has supported me since day one, she's been an incredible support to me over the years and we've both repped for each other's businesses. We 'met' on an online Baby Forum when we were pregnant with our eldest children around 7 years ago, she attended my wedding in 2017 and we now work together to create the amazing Melodie clothes fabric. Becki at @rainbowanddinosaur is so talented and creates the most beautiful, quality clothes.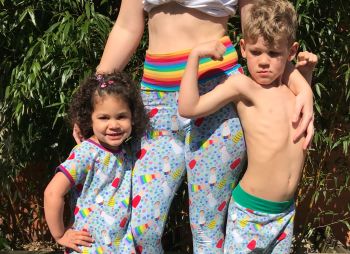 Q: What's next for Melodie Treasures?
A: A team of 100 people and a shop please! Well, that's my dream anyway.. I would love to continue to stock in shops (physical and online) and perhaps employ someone soon to help me create more lovely Melodies for everyone to love and enjoy!
Thank You to Kath at Melodie Treasures for taking part.