Wooden Bread and Toppings Set - Review
Posted on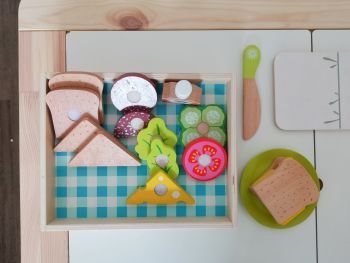 The thing about becoming an adult is we lose our ability to play. OK this may not be the case for everyone but it was for me, it took a child with new eyes, learning everything for the first time and learning most of that through play, to make me rediscover the wonder of it. So it would be a fair assessment to say I'm a bit obsessed with toys. Toys for fun, toys for education, toys to spark creativity and the one that's really resinating with Mr "just turned 2" at the moment, toys for role play.
The first time he picked up a piece of pretend food and placed it next to Dolly's little stitched mouth I felt a real sense of excitement, like my inner child was screaming out to play once more and my maternal instinct bursting with pride at experiencing another huge developmental moment in my little boy.
When we received the wooden bread and toppings tray from wooden play den it was no surprise that Mr was instantly interested, naming each item of food as we opened them. It's probably worth noting that he loves food, cutting, preparing and helping us cook it and of course, eating it, so he has become very good at knowing the names of most foods. He had a quick explore of each item and then I cruely took it away in order to set up an exciting invitation to play.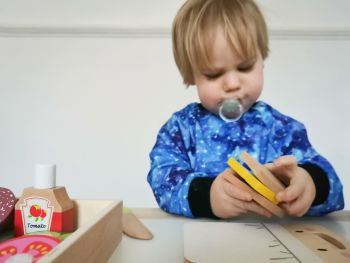 His first real role play set up. "Tommy's butty shop" the sandwich set came with a lovely wooden tray to keep all the loose items, breads, cheese, meat, Lettuce and pickle all in different shapes to add an extra level of learning and shape recognition to the play. Along with a sauce bottle, a nice weighted plate and a knife. I added some other Wooden play den items to the set up including the writing board, little wooden bowl which we used for tips and some reel wood letters. And then unveiled for Mr to explore.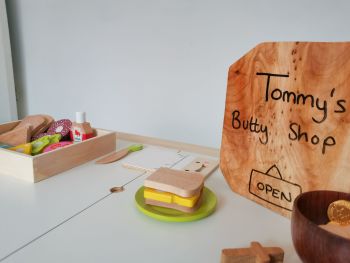 He instantly picked up the premade sandwich and deconstructed it, this was his butty shop, and he simply couldn't put his name to something he hadn't made himself. He then started with making his own, looking to me for guidance as I named a few items I would like on my sandwich. He stacked them up and pressed down the vecro slices and then as soon as it was good enough to eat, he picked it up and pretended to eat it himself... I did say he liked eating too!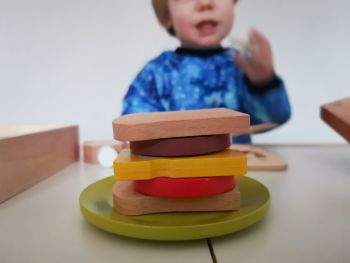 We talked about all the different items on the table, by the end he was recognising the Lettuce, which he didn't at the start. We talked about the shapes and although he was recognising some, he was not at a point where he was wanting to put the triangular cheese on the triangular bread. One day he'll appreciate the beauty in a butty cut into triangles, but for now he was perfectly happy to do it his way and I was happy for him to aswell.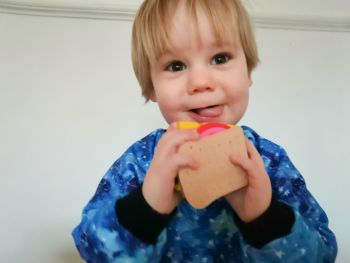 We left the set up on the table for the day and he took great joy in making everyone their own sandwich, me, hubby, dolly, cat and any guests we had throughout the day. It is a lovely little set, great for bringing out on its own for a quick activity, using for learning shapes, food names and sequences or to be included as part of a larger role play kitchen. I know it is something that will be used for many years in our house.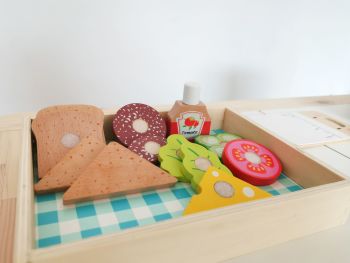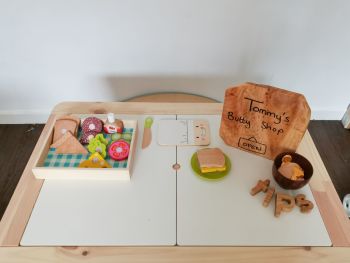 Thank you to Leah and her little boy for sharing the play ideas and review of the Wooden Bread and Toppings set.
Toys available from The Wooden Play Den