Alphabet Games
Are you like me and wondering how on to teach the alphabet to a pre-schooler?
My eldest (now 17) had a love for letters and numbers before she could talk. By 2 and a half she knew all her letters and began adding them together to make sounds. She also knew her numbers to 20. Her obsession with letters meant that before she started school she could read and write basic words and was already learning to add and subtract numbers.
However, Ronnie is the proof that it doesn't work that way for everyone — at three and a half, he doesn't recognise any letters or numbers and so I've become very aware I need to change our approach to help him grasp the concept. I also need to find ways to do this without Ronnie becoming bored!
This has led me to look for adaptable resources to try to ensure we can keep any planned activities fun!
I came across the Yellow door range and Little Coach House ranges available from The Wooden Playden and straight away knew these resources suited exactly what I had in mind.
I purchased the LCH number and alphabet boards, the great thing about the alphabet one is that it included both upper and lower case letters and so I only needed to buy the one! I also purchased the Yellow Door alphabet pebbles and the 3 pebble word building tray. I need to tell you how impressed I am with the quality of the pebbles and how versatile they will be over the next few years of learning! The pebbles are engraved with the letter meaning this will be great for finger tracing, crayon rubbing etc but also will mean the letters will not fade over time!
I thought I could share with you how we plan to use these resources over the coming months and years.
MATCHING GAMES
Ronnie has loved matching games. Whether it has been colours, animals, foods, he seems to respond really well to this sort of activity and so this was an obvious place for us to start.
I plan to lay out a number of different alphabet resources. Our Yellow door alphabet pebbles, little boo learning flash cards and our the letter bean bags we have. Ronnie then will be tasked with matching the same letter from each of the resources.
As he becomes more confident this activity can become more complex by using Upper case and Lower case variations on letters where he will need to match, for example, A a, B b etc!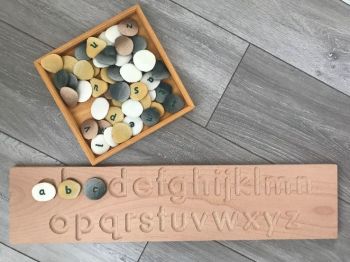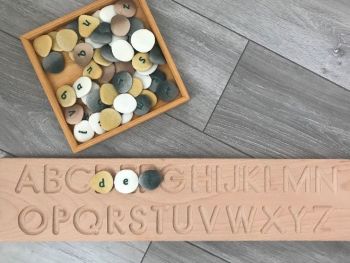 A LETTER AT A TIME
I believe (and hope!) once we start activities with the alphabet, Ronnie will start to develop a natural interest in learning more. My next approach will be to focus on a letter at a time.
I know, in order for him to grasp the concept of the alphabet, I need to make sure there is a lot of repetition with each letter to help him to start to recognise them.
This activity will involve using the Yellow Door alphabet pebbles (one letter at a time) and sourcing a number of items that begin with that letter.
I will lay these out and we will identify each of the items. This will not only help with recognition but also with recognising the sound relating to that letter.
Ideas of items to lay out are:
A = Apple, Aeroplane, Abacus, Ambulance, Ant, Acorn, Alligator
B = Ball, Beetle, Book, Banana, Bed, Blocks, Bus, Butterfly, Bike, Boat.
I plan to do this for every letter in the alphabet!
To make this activity more complex you could have a number of different letters and an item that begins with each. He would then need to place the correct Alphabet pebble with its corresponding item!
LETTER HUNT
I will bury the Yellow Door alphabet pebbles in some sand. Ronnie will need to dig the sand to find a pebble. When he has found a pebble he will then need to find an item somewhere that corresponds.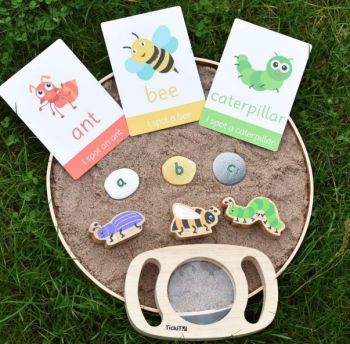 ALPHABET SOUP
We will be using Gelli baff, a resource we love, alongside our alphabet pebbles.
I will have a large pot of the Gelli Baff and I will "bury" a range of food items and their corresponding letter of the alphabet. Ronnie's task will then be to match them together!
We are huge fans of sensory and messy play and so I think Ronnie will respond well to this.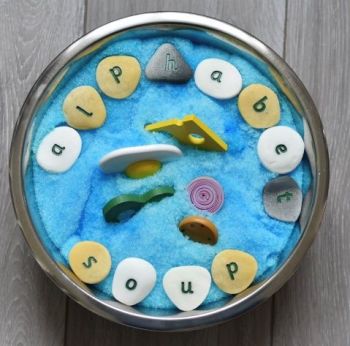 WORD BUILDING TRAY
Once Ronnie has grasped recognition of the letters, the next step will be to start to place sounds together and begin to form simple words.
We will start with three letter, CVC words.
Ronnie will be given a word written on something and he will need to find the correct letters and place them in the Yellow Door word building tray in the correct order.
We will then read these words so Ronnie starts to recognise how sounds change when they are put together.
This can develop over time and eventually Ronnie can form his own words without the need to copy.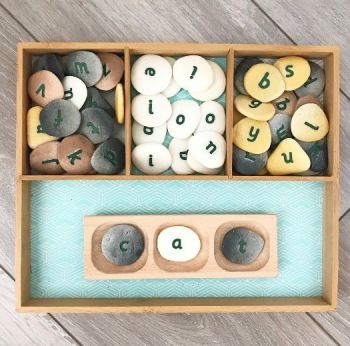 All these activities will work brilliantly with our new Yellow Door and Little Coach House resources as well as with the items we have available to us around the home.
I will keep you all posted on how successful we are!