Let's Get Outside
Posted on
Let's Get Outside!
At this time of year it's fun to think cosy thoughts of hot chocolate and comfort food, snuggling up under chunky blankets for family nights in together. But it's actually the most spectacullar time of the year to get out into nature. There's so much to spark a child's interest and imagination, from the spectacular changing colours on our trees, to the bounty of the autumn harvest with its vibrant red berries, shiny brown conkers and exciting fungi. One of my favourite questions to put to my kids at this time of year is "What colour are trees?", seeing the truth dawn on their little faces as they tell me "green" but actually notice the many colours all around them!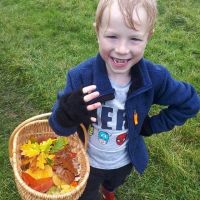 The benefits of nature are not something we outgrow, so if you have children spanning a few age ranges, outdoor activities are a great family-wide option. If you're stuck for inspiration to get the kids engaged, a great starting point is the "Outdoors" section on the Wooden Play Den website. From staples such as bug jars and magnifying glasses to educational resources such as the Yellow Door "Adventurers Outdoors" portable card packs, there's plenty to inspire outdoor activities for kids of all ages. My top picks are the critters compasses, which my 6 year-olds love using alongside an OS map on family hikes; the bug jar, which we use year round, indoors and out, to look at any treasures we might find in greater detail, and especially to scrutinise the creepy-crawlies our boys seem to love so much; and anything from The Den Kit Co! We're also looking forward to exploring animal tracks and sign, for which we'll be using the Yellow Door "Let's Investigate Woodland Footprints" and some Little Munchkins play dough as a prep activity.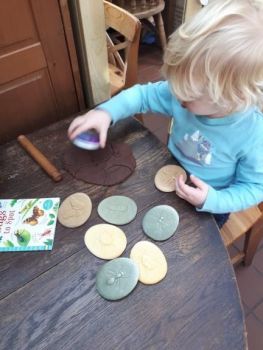 There are also plenty of great activities that you can enjoy relatively cheaply or even for free at this time of year. Our half term itinerary includes:
· Witch's brew: we'll be starting the week with a walk to collect a combination of coloured leaves, seeds (conkers, acorns, helicopter seeds, poppy seed heads, rosehips, hawes, etc - steer clear of fungi unless you're sure you know what you are picking, and always be sure you know what any berries you pick are beyong doubt as some, such as yew berries, are deadly if ingested), petals, etc, which we will then use to make our own potions in the garden! Throw in some herbs and spices from the kitchen for colour and scent too and let the kids get messy with some old pots and pans and wooden spoons or sticks!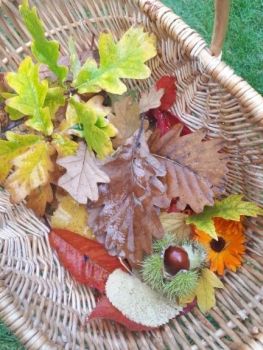 · Leaf pictures: again, we'll be collecting a variety of leaves, plus a few conkers/acorns to use as eyes/noses. I usually press these overnight to help them dry flat, then let the kids get creative making pictures. If they need inspiration, suggest animals - squirrels, foxes and hedgehogs are good - a Halloween theme, or even fireworks!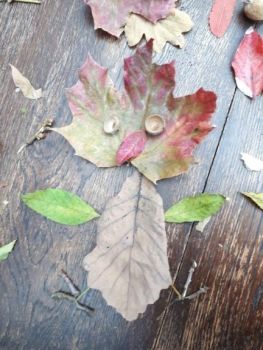 · Tree Climbing: this is part of our regular outdoor play, but it's sometimes a great incentive to get kids out of the door in the first place! On a damp day if I say to my kids "let's go for a walk!" they'll often resist, but the moment I say "let's go to the climbing trees!" they're pulling on their wellies! Look for trees with low forks and plenty of sturdy branches to hold on to, and always look out for dead branches that might be unsafe. If you can, climb a tree with your kids – it's incredibly good for the soul to see the world from a different perspective, and your kids will see you differently too!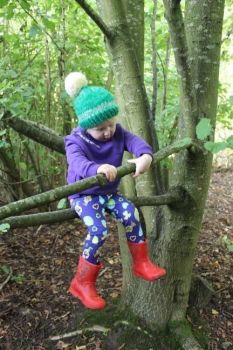 · Pumpkin carving: lanterns for Samhain/Halloween. We'll then make soup and maybe muffins with the pumpkin flesh - another activity we'll enjoy together.
· Bird-feeders: I have invested in a £1.99 bag of bird seed and we'll be putting toilet rolls to good use, as well as filling hollowed-out mini pumpkins with seed. If you're not sure where to start with this one, do look at the gorgeous "Make a Pizza for the Birds" kit from The Den Kit Co as it's a great way to get everything you need in one go!
TOP TIPS:
· Wellies or good walking shoes are a must in autumn, as no-one likes wet feet!
· That said, a bit of mud never hurt anyone, and getting a bit mucky is actually a healthy sensory experience for kids… just make sure they're not dressed in their Sunday best!
· Waterproof outer layers are great for muddy puddle adventures, and if it's cold, gloves and a hat are a necessity.
· Gloves are also a great bonus to little hands when it comes to collecting leaves, seeds and berries, as they offer some limited protection against anything prickly or stingy (brambles, nettles, conker cases) and help keep hands cleaner for longer.
· Always wash hands after any outdoor activities before eating.