Story Sack Ideas to Suit All Budgets
Posted on
Story Sack Ideas to Suit All Budgets
You can't beat a good story sack invitation to play and read, and you might have seen our Story Sack Sunday feature each week on social media. As well as, this week's Storytime theme to our weekly #WonderPlayDiscover challenge.
But what is a story sack, and why are they so popular?
A story sack is quite simply a collection of props – most often characters that feature in the story in question – traditionally placed in a bag or sack so that the child can discover them one by one to pique their excitement. However, "story sacks" can be something as everyday as pillow cases (you could even find themed cases to match the story, but plain works just as well), canvas bags, bowls, trays or baskets that group the relevant toys together in one place.
Story sacks are a wonderful early literacy aid, helping children to access stories on a deeper level and encouraging imaginative play. A good story sack inspires children to act out the tale, which improves understanding and, crucially, builds empathy for the characters and their motives, a vital life-long skill. Story books offer children insight into our wider world, and story sacks increase access to that world through active experience. Story sacks can engage children who might otherwise struggle to sit through a whole book and so increase attention span over time. Most importantly of all, they make reading fun!
To tie in with our Storytime theme this week, we've put together a list of potential story sacks from The Wooden Play Den to suit all budgets. All you need to add is the book!
£40+
The Gruffalo Story Sack, including book and official characters: £62.50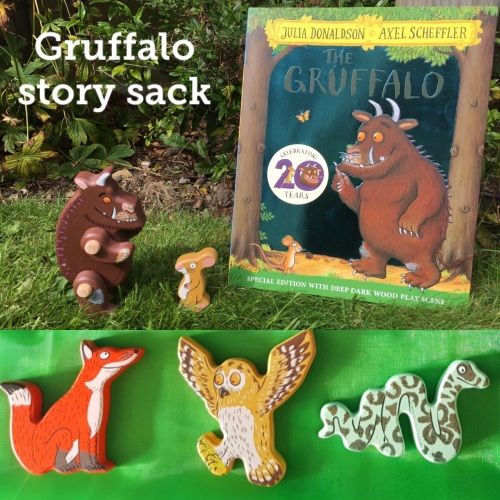 Alternatively you could use some of the other brands of animals and include the Gruffalo character with unofficial animals bought separately: Mini Gruffalo, Official Mouse, Holztiger fox, Holztiger Owl, Eric & Alberts Crafts Adder
Total cost: £48.55
Other ideas:
Room on the Broom - Cat + dog + frog + bird + optional wand, with the witch and the dragon (finger puppet set)
Other books which work great with animals; Dear Zoo, Oh Dear! The Snail and the Whale, Puffin Pete, you could use either Holztiger or Eric & Alberts animals both available from The Wooden Play Den.
Under £40
How to Catch a Star
Rocket Construction Set + Star wand: £32.50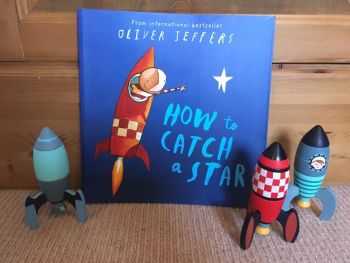 Chicken Licken
Eric & Albert chick + Eric & Albert hen + Holztiger goose + Holztiger squirrel + Eric & Albert Fox: £37.80
Under £30
Goldilocks & the Three Bears
Nesting bears +Holztiger princess: £27.50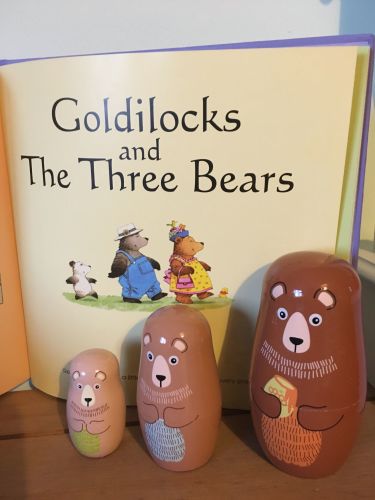 No-bot (option 1)
Robot Construction set £22
You Can't Take an Elephant on the Bus (option 1)
Eric & Albert Elephant + Bajo Bus: £25.50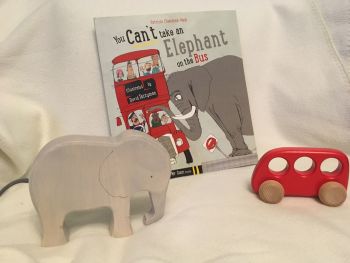 Oh Dear!
Matching Game - Domestic Animals £21
Under £20
No-bot (option 2)
Ned the robot from £16.50
The Three Billy Goats Gruff
Billy Goats Gruff set: £14.40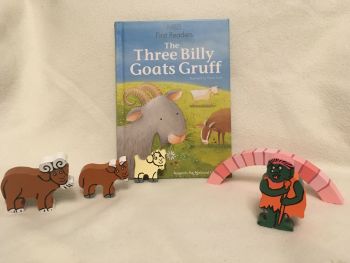 Owl Babies
Nesting Owls: £16.50
Jack & the Beanstalk
Jack & the Beanstalk Wooden Characters: £16.80
Under £10
You Can't Take an Elephant on the Bus (option 2)
Pull-back action elephant + Wooden vehicle bus: £9.50
Bases for Fairytales
Tenderleaf Story Bag: Fairytale
Use as a base for Cinderella, The Frog Prince, The Princess and the Pea - see below for suggestions. £23.50
Finger Puppet Set: £14.50 for 6 puppets
Prince, Princess, Fairy, Witch, Scarecrow, Dragon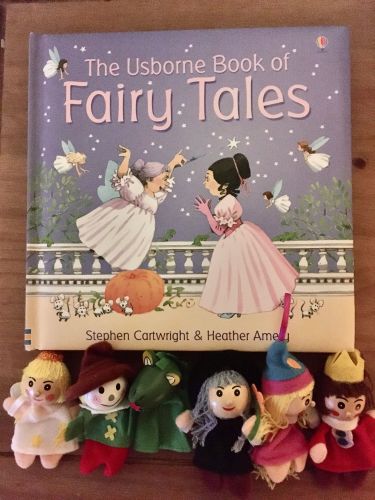 Combinations:
Use the princess, prince, witch and fairy (optional dragon): Sleeping Beauty

Use the prince, princess, a bed and a green bead:

The Princess and the Pea
Keep following our Story Sack Sunday for more ways of making your stories come alive with props.