Learning through playdough
Posted on
Learning through playdough
In this house, playdough is the one activity I can guarantee will give me five minutes of peace. All three kids can be brought back from the brink of meltdown with the aid of this wonderstuff - I don't know whether it's the sensory nature of it or just the repetitive action of kneading and rolling, but it works! The fact that it's a creative activity, screen-free time, and easy clean-up is all just gravy!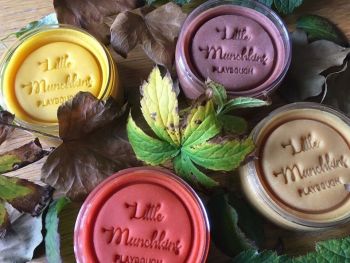 Playdough activities are truly fantastic for aiding children's development. From an early age the natural actions associated with playdough help develop fine motor skills - kneading, pinching, rolling, even just prodding and poking the playdough in the pot! As they grow up, their natural curiosity increases the breadth of their motor skills - introduce rolling pins, blunt scissors, stamps, even simple tools such as a teaspoon or a child's fork, to add variation.
As well as fine motor skills, playdough activities can help children fulfil their sensory needs, especially the wonderfully scented doughs from Little Munchkins! My autistic 6 year old uses playdough as a means of self-regulation - where he used to run away and find a dark corner to hide in when he felt overloaded (and usually get stuck-in!), he now either helps himself to playdough off the shelf, or asks for it. It helps him to relax and unwind. We encourage this for obvious reasons! You can build on the relaxation factor by choosing more relaxing scents.
Playdough works fantastically well alongside wooden toys. Our peg people, wooden animals and wooden food often make their way into our playdough play, with wonderful gardens, woods, and ocean scenery created through the dough. The only limit to a child's creativity is their imagination - model imaginative play with play dough and watch their creativity soar!
I regularly set up invitations to play with playdough at the heart, and wanted to share a few we enjoyed this week. All went down well with my 2 year-old, whose concentration levels are increasing week-on-week thanks to activities like these.
1) Scent-matching game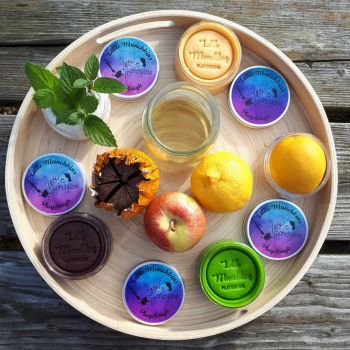 We have a variety of food-scented doughs, including chocolate, honey, lemon and lime and peppermint. For this game we matched the food-scented playdough to the food. It was a great game for reiterating that, although the playdough smells like food, it's not actually meant to be eaten!
2) Autumn seed play and printing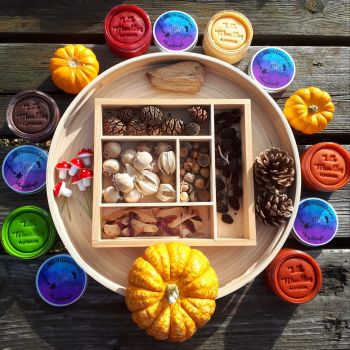 I LOVE to combine natural resources with playdough, and this is a great activity for autumn when seed pods are so plentiful! We used dried poppy heads, lime cones, pine cones, sycamore seeds, and also some mini pumpkins from the supermarket, alongside the Little Munchkins Autumn Trio and Gingerbread scented dough. Coby enjoyed making imprints in the dough as well as hiding the smaller seed pods in the dough for me to find. We also mixed sunflower seeds through Tuscan Sun Yellow playdough to change the texture - poppy seeds would have worked well too!
3) Invitation to create a garden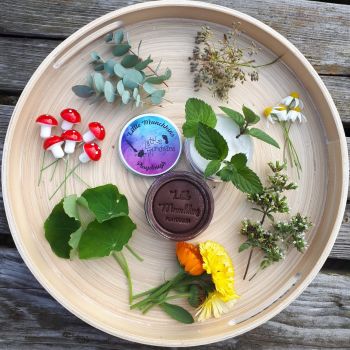 I raided our herb garden for this activity, and once again incorporated the mini pumpkins from the supermarket. I chose a mixture of woody herbs like oregano, winter savoury and eucalyptus with any flowers that were still flowering - calendula and chammomile - leaves from our nasturtium and mint and some fennel heads. I also threw in some decorative toadstools I had stashed away, and combined these with Chocolate playdough (soil) and Apple Green playdough (grass). Coby brought in his gardener peg people too, and thoroughly enjoyed sticking the herbs into the playdough to create a garden scene!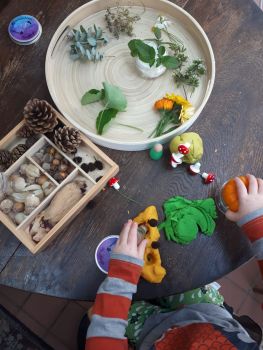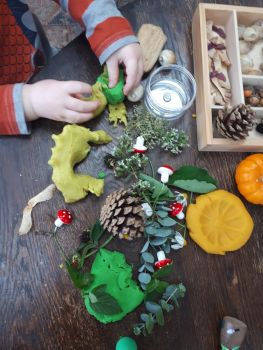 There are endless ways to incorporate playdough into your play - we'd love to hear how you use yours over on the Wooden Play Den Community on facebook!
Special thanks to Caroline for sharing your Playdough ideas.
A range of Little Munchkins Playdough is available at The Wooden Play Den, click here for the full range.