Back to School!
Posted on
Somewhere in the middle of August is that moment I begin to panic. Yes, we have had 3 weeks of fun together. We may have been on holiday or not, played outside or in, enjoyed days out or at home... but we haven't done any school work. What if my kids have forgotten everything they learned at school this year? How can I help them better face the new school year? How can I support all the teachers' hard work and get them off to be flying start?
I had good intentions this year to continue some formal learning during the holidays, some writing, reading and maths work. I asked my little man's teacher about maths activities which would help him and was all prepared to incorporate it into the summer holidays. Now we are in week 4 and these acitivities have not surfaced. I know our children need a break too, so I am not too worried, but with Back to School only a week away, I thought it was time to get my little man's school hat back on!
These are my picks to support the foundation stage and key stage 1.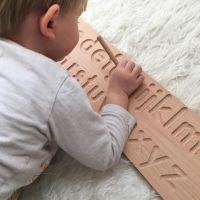 Whether you are working on letter or number recognition or formation, these boards are a fantastic resource. Aside from being beautiful and tactile, there are lots of ways to play with these, making learning almost a secondary element to fun! Introduce play dough to help your child familiarise themselves with the feel of the figures; use small coloured beads or pompoms to combine learning with fine motor skills development – add tweezers for even more of a challenge – and encourage pattern-building or colour sorting to bring further foundation mathematics into the mix; or add a bowl of water beads or coloured sweets for sensory play. Check out The Wooden Play Den Community on Facebook for more amazing ideas!
Making fractions fun! These can be used as a precursor to fractions, simply for counting 1-5, helping children understand what a grouping of three, for example, looks like. I would also pair these with my Tickit fruit and veg matching game and some wooden fruit/veg to talk about healthy food with my toddler!
The Importance of Reading
Reading to and with children of all ages is crucial to their development. Not only can you help them to hear phonics sounds by emphasising, for example, all the "c" sounds in a book, you also lead by example in reading aloud, providing context and understanding and supporting common topics and themes. The Wooden Play Den's story sack Sunday provides wonderful ideas to extend children's enjoyment of Reading and bring books alive. Take a look at our posts on Facebook and Instagram every Sunday.
Hopefully this has given you a bit of inspiration for the last few weeks of the holidays.