Meet the Maker - Number Peg Dolls
Posted on
I am so delighted with our new Number Peg Dolls, they have been designed exclusively for us by Emma at Resourceful me.
I thought it would be nice to introduce Emma and her work in more detail, so you know exactly where your little peg dolls have been made.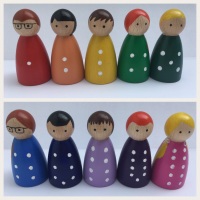 " Hello, I'm Emma and I run Resourceful Me. I make play-based learning resources for use at home and in the classroom. I am also a Primary school teacher with 16 years experience.
I am passionate about learning and in particular the importance of making learning hands on and fun. My business idea was developed just over 2 years ago when I moved to teaching a class of 3 and 4 year olds. I had always known the importance of play as part of child development but working closely with younger children helped me to understand and appreciate it further. I've always created my own teaching resources and quickly found myself making more engaging items.
I am very lucky to be able to use my resources in the classroom and love the seeing the children's reactions, particularly when they don't even realise that they are learning! "
Here are the little dolls in the making: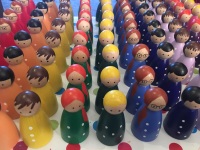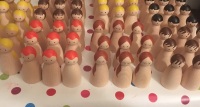 Our exclusive range of Peg Dolls are £37.50 for a set of 10 and come with a cotton storage bag.