Safari Stack - ways to play
Posted on
Safari Stack - ways to play
I love this game, and it is a favourite in our house with my 1 year old and 4 year old. Take it in turns to roll the dice and build a tower of 4 different animals - the first to build the tower without it falling over wins.
That's the game as it is shown on the box, but after having this game for just over a year, my 4 year old has come up with lots of other options which I thought I would share. I have also had customer feedback of a few different games too - which I have included.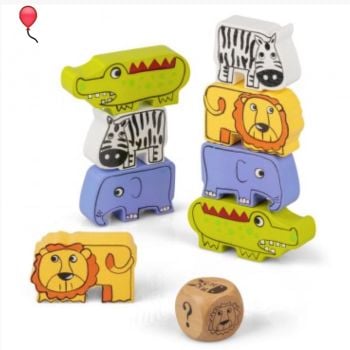 1 - Rather than stacking in 2 different towers we rolled the dice and tried to create 1 big tower - this was good for a balancing game and a steady hand!
2 - Rolling the dice and needing to stack them in a specific order - apparently my little man doesn't think an elephant would stand on top of a crocodile. Creating additional rules extended the game.
3 - Creating small world play and playing out Noah's Ark when the animals went in 2 by 2. Imaginative play at its best. These wooden aniamls are lovely chunky quality alone.
4 - Putting the animals into a repeating pattern.
5 - Simply building a tower - and seeing how high you could go before the tower fell over.
6 - Building up the tower and rolling the dice into the tower to try and knock them over - our own take on skittles.
So many options and creating its very own imaginative play by allowing children to create their own games. I would love to hear what other games your children create with this set.
To read more about this toy just click here