What is small world play?
Posted on
Small world play is creating a true to life scene for a child to play with. Using small items, ideal for little hands, you can recreate many scenes such as a garden, farm, space, seaside, zoo, garage, safari and many many more scenes.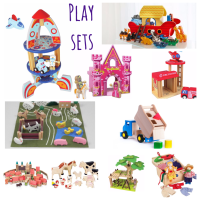 A child will use their imagination to create their own stories or re-enact stories that they have heard, maybe their favourite book. There are so many benefits of small world play including:
- Using their imagination
- Building Language skills
- Playing independently
- Sharing with others and playing together
- Problem Solving
- Learning about cause and effect
You can also build sensory play into small world play.
Create an Ocean Adventure using your basin or bath. There are many sea creatures available and our Fishing Port in a tin can be a great accompaniment to this.
Digger world – cars and diggers can be used outdoors, in gravel and in a rockery.
At The Wooden Play Den we love small world play and have many playsets available, fishing, zoo, farm, space, treehouse, fire station, pirate see them all here