Collecting our #SBS winners award
Posted on
Last Friday I went to Birmingham to attend the Small Business Sunday winners event. The Wooden Play Den won the #SBS Twitter competition ran by Theo Paphitis in June 2015. However due to the arrival of my little girl I had to wait until this years event to collect my winners certificate and meet Theo himself.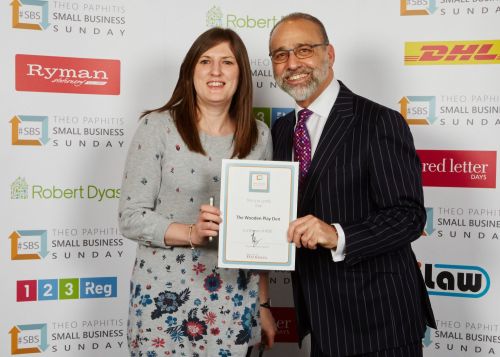 I made the trip with my friend and business buddy Sarah Lewis, Sarah runs Lily's Secret Vintage Tea Room and also won the #sbs prize during 2016. After a cuppa and some cake the formalities began and we heard from Kypros Kyprianou, CEO of Theo Paphitis Retail Group and Theo himself
Next up we heard from Jodine Boothby, she spoke about her business journey and her invention the Gummie Glove. A fantastic teething toy for babies who are too young to hold teethers themselves. Her talk was really inspriational and as a previous #sbs winner herself it felt like we were amoungst friends.
After a spot of lunch and meeting some new faces, there was a Question and Answer session whereby all winners of #sbs were able to ask a question to Theo, Deborah Meaden and John Mills, founder of JML.
Finally I got to meet Theo and collect my winners certificate from him. Our on way home we collected a goody bag full of stationery and my brand new Winners note pad! All in all a enjoyable day celebrating our win and meeting some lovely business owners along the way.
Hannah