Food Cutting Set - Ways to Play
Posted on
This was one of my favourite new toys last year and it has so many ways to play.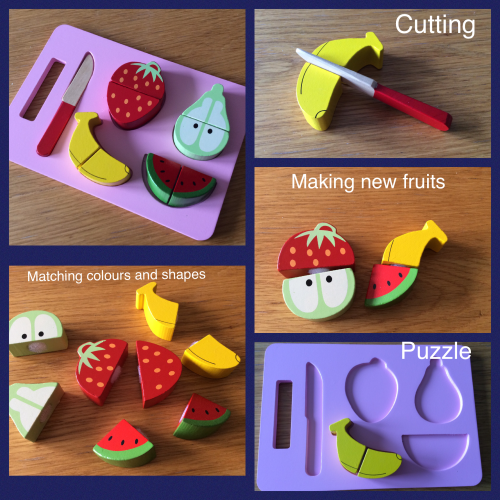 1. Creating new fruits - use their imagination to create new fruits - encourage your little one to put new fruits together, come up with new names and even serve then in a pretend cafe.
2. Cutting - develop their fine motor skills by cutting the fruit in half.
3. Matching shapes and colours - put the fruits together and they fix with velcro. they can be matched by colour and shape.
4. Puzzle - all of the fruits and the knife fit onto the wooden tray. Recognising and matching the shapes to the pieces, developing cognitive skills and problem solving.
5. Role Play - my favourite play - create a cafe, serve up the fruit as pudding, put it in drinks for cocktails and let your little ones come up with the menu.
The Food Cutting set also comes with a blue tray with vegatables and fish. Click here