Top 10 Wooden Party Bag Fillers
Posted on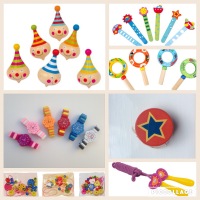 Top 10 Wooden Party Bag Fillers
Hopefully this blog post will help you get organised for your children's party by giving you the Top 10 Wooden Party Bag Fillers. A Children's party can be expensive enough so our Wooden Party Bag fillers start at just 50p each. Add a piece of cake and a balloon and you have created a fantastic party bag for the children to keep without breaking the bank
1) Jitter Bugs
These are one of my most popular pocket money toys for both boys and girls. A little bug in a box really can be great fun. Do you remember having one of these as a child?
Painted in a range of colours, these cute clowns challenge those school age children to create hours of fun.
This is a great choice for a 2nd or 3rd birthday, boys and girls just love these watches. A range of colours available.
4) Book Mark
Six different themes available, boat, aeroplane, flower, star, sun and car. Lovely quality.
4 colours available, orange, blue, yellow and green Indoor play and outdoor play options available and great for little explorers.
6) Yoyo
Challenge them to a yoyo competition, our yoyos come in different designs, ideal for Age 5 upwards.
Normally purchased for girls however I've had boys interested too. At only 50p each why not buy a few for each child so they have something to keep that they have make themselves.
Wooden vehicles are a toy that lasts years. Children begin by just pushing them around but as they get older use them in imaginative play and create stories. The wooden vehicles come on Ambulance, Fire Engine, Police Car and Bus.
A Wooden Skipping rope is a good option especially for the summer months. A toy to get kids active, create loads of games and something that can be easily stored and taken on holiday. Recommended for Age 4 upwards.
10) Lacing Shoe
These have been so popular with children and parents, the lacing shoe.
All of our Wooden Party Bag Fillers can be purchased individually so you can mix and match based on the ages and interests of the children coming to the party. Perhaps you think boys would like one thing and girls another, or perhaps you have different ages of children coming and need to cater for a wide range from babies to school age children. Hopefully this has given you some ideas.
If you would like to receive 10% off your order and receive a FREE gift for the birthday girl/boy too, you can join our birthday club.