Top 10 gifts under £10
Posted on
With Christmas being the most expensive time of year, with presents, food, decorations and alot lot more to buy finding great presents within budget can sometimes be a tricky task. You dont have to spen a fortune to get some great gifts. Here are my top 10 presents under £10.
One of our most popular toys, entertains children from age 3 up to age 10. Children have such imagination and I have seen this robot turn into many different things. Its only £5.99 and comes in Red and Blue. You can also add a Gift Bag for £1 and the wrapping is all sorted.
Our Play sets in a tin are a really popular choice. All come with a mat and play pieces to enable children to act out stories. An enclosed leaflet also gives you ideas of how the encourage imaginative play with the set. Its a great option to take on your travels as everything fits into the tin, could even be taken for Christmas LUnch and played with at the table to keep the children entertained. Other playsets include Farm in a Tin, and Fishing Port in a Tin all £9.99 and recommended for age 3+.
Princess and Dog Push alongs, great fun from walking up to 4 years.My little boy who is 2 1/2 chases me around the house with his Dog! They make a clacking sounds as they are pushed, can be taken outdoors for fun on walks or indoor use £9.50 each
This fun threading set develops fine motor skills and allows children to develop confidence in sucesses. The farm figures can also be used as a play set for dual play. £7.50 and recommended for age 3 +.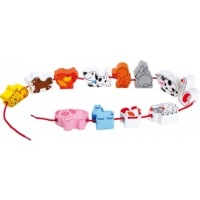 Most children love crafts, this little set includes everything you need to make these cute peg figures. Once created why no act out plays and let their imaginaton make stories. All comes in a tin £9.99
Most 1 and 2 year old love transport vehicles, pushing them around and using them in imaginative play. This truck is no different, a guaranteed winner for Age 1 - Age 4. £7.50 each.

Food Cutting set with chopping board and knife. The food slots into the shapes so also used for matching shapes and objects. Comes in Blue and Pink £8.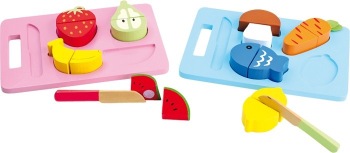 A range of Jigsaws from 24 pieces to 98 pieces in a range of pictures. All with wooden frame. £7.00 - £9.00. Zoo, Tractor, Pirate Ship, Fairytale, Show Jumping, Baby Animals.
Add to a train set or simply play along with the playset, create imaginative stories and themes. £8.50 comes in a draw string bag.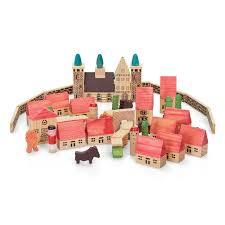 If you are still not sure what to buy or cannot decide, give the gift of choice by giving a Gift Voucher. Comes with Card and voucher code to use online.