Product of the week - Bajo Breakdown Lorry
Posted on
I first came across Bajo wooden toys when my son Isaac received one as a Christening gift. Although he was not old enough to play with it, the design and style of the product was instantly apparent, and it looked great displayed on his bedroom shelf. Bajo wooden toys are instantly recognisable, with vibrant colours and quality manufacturing, making them toys to treasure.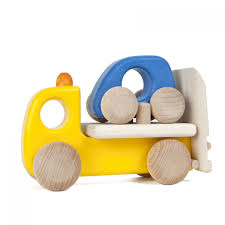 One of my favourite toys from their range is the Breakdown Lorry. It's a classic wooden toy that provides great value and many opportunities for imaginative play. The lorry has a car that can be played with separately, and a detachable ramp which folds down to allow the car to drive on and off. The car can also be parked over the pegs on the lorry to ensure it does not move in transit.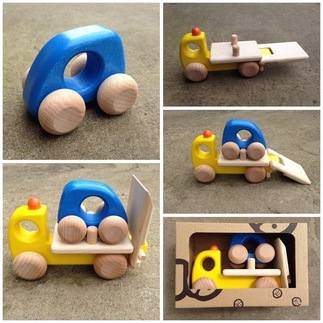 It's beautifully made with striking colours however retains some elements of natural wood to ensure children gain the full sensory experience and benefits of wooden toys. It's great for little hands, easy to hold and lightweight.
The Breakdown Lorry measures approximately 15cm x 5cm 10cm and comes packed in recycled brown cardboard.
The wood used to make Bajo toys is FSC certified and all Bajo toys conform to the rigorous European Standard EN 71, safety of toys. The colour, coatings and adhesives are all certified non-toxic
As my product of the week I am offering a 15% discount until 22nd July 2014, now £15.30 reduced from £18. So if you have a birthday present or christening gift to buy, or even want to start your christmas shopping why not take a look. Recommended age 18 months +.